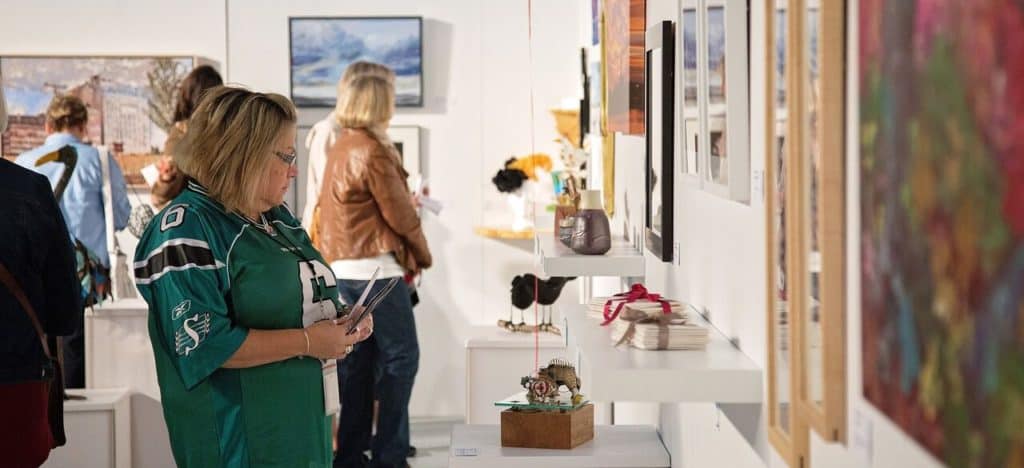 The largest fine art fair of modern and contemporary art in Saskatchewan. 
September 19 (Opening Reception) • 7 – 10 pm
September 20 • 11 am – 8 pm
September 21 • 11 am – 6 pm
September 22 • 11 am – 6 pm
1831 College Avenue, Regina, SK
Call for Submissions: Art Now 2019
Submission Deadline:
JUNE 10, 2019, midnight
Who is eligible?
Applicants must be juried members of the SCC in good standing at the time of submission and at the time of Art Now.
What kind of work should I submit?
All selected works require a 25 word description. Please provide a short story of what inspired you to create the work and what you hope the audience will feel or think while viewing it. Artists may submit up to six pieces for selection. We are able to feature some large pieces.
All pieces must be for sale. Preference will be given to pieces not previously showcased at past Art Now fairs. Please do not include works that are submitted to concurrent events. Works must be ready to install with clear instructions and packaged appropriately for sale.
For more information, contact:
Alexa Hainsworth
SCC Member Services Coordinator
(306) 653-3616 ext. 1
scc.memberservices@sasktel.net