From June 27 to August 31, the SCC is holding a Fine Craft Prize Draw fundraiser to support programming and outreach initiatives.
There are three chances to win artwork by glass artist Bonny Houston, metal artist Daryl Richardson, and ceramic artist Jack Sures. Total retail value of the prizes is over $700.
Tickets are $10 each and can be purchased at Affinity Gallery, 813 Broadway Avenue, Saskatoon, SK.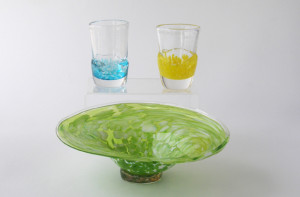 Bonny Houston has been creating hot glass since the mid-1980s. She finds inspiration in the colours and forms around her – from the shades of Asiatic lilies in her garden, to the flash of goldfish in the backyard pond, or the subtle blondes of native grasses. Bonny has operated her own glass studio in Calgary, Alberta called Houston Hot Shop, since 1994. A teacher and committed member of the glass art community, Bonny exhibits locally, nationally, and internationally while maintaining an active studio practice. She is honoured to have her glass chosen and gifted to the Dalai Lama.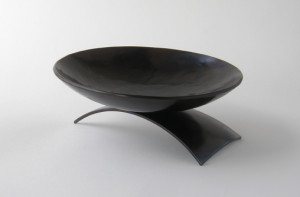 Daryl Richardson, a resident of Saskatoon, has worked in many areas of craft throughout his career. His primary medium is forged metal, but is comfortable working with any material that allows his ideas to come to fruition. Daryl is an active member of the Saskatchewan craft community: he is a founding member of the 330 Design Group in Saskatoon, a member of the Saskatchewan Craft Council and the Western Canadian Blacksmiths Guild, and has participated in the Emma International Collaborations since 1998.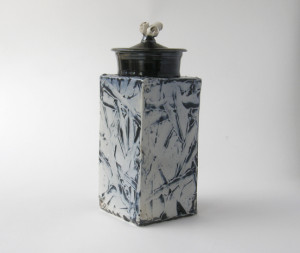 Jack Sures is one of Canada's premier ceramicists and art educators. Everything from small vessels to large architectural commissions to graphic works on paper make up his repertoire. His major public works include a 2,900 square foot mural for the Sturdy-Stone Centre in Saskatoon, a terrazzo floor for the Wascana Rehabilitation Centre in Regina, and a mural for the Canadian Museum of Civilization in Ottawa. Jack is a member of the Order of Canada and has been awarded the Saskatchewan Order of Merit.
Lottery Licence: SR15-0459
For more information, contact SCC Member Services Coordinator Ferron Olynyk.