Le Salon des métiers d'art du Québec
Saskatchewan Craft Council will be showcasing three Saskatchewan artists at Salon des métiers d'art du Québec in December 2019: Mary Lynn Podiluk, Kathleen O'Grady, and Sherri Hrycay.
Le salon des métiers d'art is the most anticipated Quebec arts and crafts show of the year! With nearly 60 years to its credit and more than 325 national and international exhibitors, this is a major must-visit cultural event in Montreal. 
All works exhibited at this show are recognized as fine craft in accordance with the norms and standards of Conseil des métiers d'art du Québec. This ensures that every piece has been designed and made by artists in full command of their craft.
---
Le Saskatchewan Craft Council est fier de présenter trois artistes de la Saskatchewan au Salon des métiers d'art du Québec : Mary Lynn Podiluk, Kathleen O'Grady et Sherry Hrycay.
Le Salon des métiers d'art est le rendez-vous par excellence en matière de créations québécoises. Comptant près de 60 ans d'existence et réunissant plus de 325 exposants d'ici et d'ailleurs, il s'agit d'un événement culturel incontournable à Montréal.
Toutes les œuvres exposées au Salon sont reconnues comme des « objets d'art et d'artisanat » selon les critères du Conseil des métiers d'art du Québec. Elles ont toutes été conçues et réalisées par des artisans possédant une parfaite maîtrise de leur métier.
Hours:
December 6 – 16, 2019
Monday – Saturday: 11 am – 9 pm
Sunday: 11 am – 6 pm
Heures d'ouverture:
Du 6 au 15 décembre 2019
Du lundi au samedi : de 11 h à 21 h
Dimanche : de 11 h à 18 h
Location:
Place Bonaventure
240 – 800 Gauchetière Street West
Montreal, QC
Lieu:
Place Bonaventure
800, rue de la Gauchetière Ouest
Montréal (Québec)  H5A 1K6
Admission:
FREE!
Entrée:
GRATUITE!
Sherri Hrycay
Milliner | Chapelier
info@sovadesign.ca
sovadesign.ca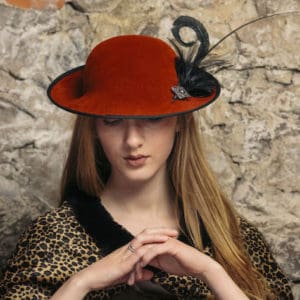 Sherri Hrycay has been making hats for nearly 20 years. In this time she has attended masterclasses in the UK, France, The Netherlands, and Australia. Sherri's designs are inspired by the flamboyant culture of the 1920s. Sherri sells at her own store in Saskatoon, Saskatchewan and at markets across Canada.
---
Sherri Hrycay fabrique des chapeaux depuis près de 20 ans. À cette époque, elle a suivi des masterclass au Royaume-Uni, en France, aux Pays-Bas et en Australie. Les designs de Sherri s'inspirent de la culture flamboyante des années 1920. Sherri vend dans son propre magasin à Saskatoon et sur les marchés canadiens.
Mary Lynn Podiluk
Jewellery | Joaillière
info@marylynnpodiluk.com
marylynnpodiluk.com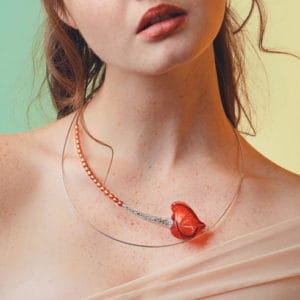 Mary Lynn Podiluk is an Art Jeweller & Goldsmith who explores language and sound through precious and contemporary materials. Since graduating from NSCAD University, she has exhibited her work nationally and internationally, receiving numerous grants and awards, including two NICHE Awards. Her collectors include the Kamm Teapot Foundation, the Saskatchewan Arts Board and Carrie Fisher.
---
Mary Lynn a étudié les beaux-arts et la linguistique à l'Université de la Saskatchewan, puis elle a poursuivi ses études en artisanat à l'Université NSCAD, où elle a obtenu un baccalauréat en conception et fabrication de bijoux en 2012. Mary Lynn a exposé son travail à l'échelle nationale et internationale. Après avoir obtenu son diplôme, elle a remporté le Concours national canadien d'étudiants en joaillerie (Ottawa) et a été la représentante de la Saskatchewan dans l'exposition The Canadian Mosaic of Metal (Toronto). Elle a reçu le prix d'excellence en métiers d'art du Saskatchewan Craft Council. En 2015, Mary Lynn a remporté un NICHE Award professionnel (Washington) dans la catégorie "bijoux de mariage" avec sa bague de fiançailles «Infinite» et elle a été sélectionnée comme finaliste pour la même catégorie en 2016. Elle a remporté la catégorie théière en 2013 en tant qu'étudiante avec sa pièce «Metalanguage», qui se trouve maintenant dans la plus grande collection de théières au monde, la Kamm Teapot Foundation, acquise lors de SOFA Chicago en 2015. Son travail se trouve également dans la collection permanente du Saskatchewan Arts Board. domaine de Carrie Fisher.
Kathleen  O'Grady
Fashion Designer | Designer de mode
info@gradybleu.com
gradybleu.com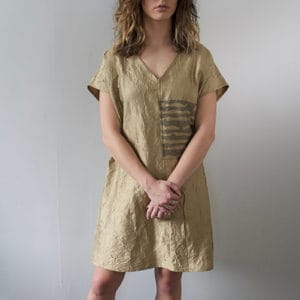 As an independent clothing designer in Saskatoon, Saskatchewan, Kathleen O'Grady's goal is to make beautiful, wearable clothing for women who appreciate quality and authentic simplicity in their dress. Combining old world sensibilities with contemporary design, she creates garments that have timeless and enduring appeal.
---
En tant que designer de vêtements, l'objectif de Kathleen O'Grady est de créer de beaux vêtements pour femmes qui apprécient la qualité et la simplicité authentique. En embrassant le mouvement Slow Clothing tout en en mettant l'accent sur l'artisanat de qualité, elle crée de petites collections de d'accessoires. Elle aime utiliser des colorants naturels dans ses écharpes, qu'elle teint à la main. Combinant la sensibilité de la vielle mode avec un design contemporain, elle crée des vêtements d'un attrait intemporel et durable
Saskatchewan Craft Council gratefully acknowledges the support of

Le Saskatchewan Craft Council remercie de son soutien Creative Saskatchewan