Le Salon des métiers d'art du Québec
Saskatchewan Craft Council will be showcasing three Saskatchewan artists at Salon des métiers d'art du Québec in December 2019: Mary Lynn Podiluk, Kathleen O'Grady, and Sherri Hrycay.
Le salon des métiers d'art is the most anticipated Quebec arts and crafts show of the year! With nearly 60 years to its credit and more than 325 national and international exhibitors, this is a major must-visit cultural event in Montreal. 
All works exhibited at this show are recognized as fine craft in accordance with the norms and standards of Conseil des métiers d'art du Québec. This ensures that every piece has been designed and made by artists in full command of their craft.
---
Le Saskatchewan Craft Council est fier de présenter trois artistes de la Saskatchewan au Salon des métiers d'art du Québec : Mary Lynn Podiluk, Kathleen O'Grady et Sherry Hrycay.
Le Salon des métiers d'art est le rendez-vous par excellence en matière de créations québécoises. Comptant près de 60 ans d'existence et réunissant plus de 325 exposants d'ici et d'ailleurs, il s'agit d'un événement culturel incontournable à Montréal.
Toutes les œuvres exposées au Salon sont reconnues comme des « objets d'art et d'artisanat » selon les critères du Conseil des métiers d'art du Québec. Elles ont toutes été conçues et réalisées par des artisans possédant une parfaite maîtrise de leur métier.
Hours:
December 6 – 16, 2019
Monday – Saturday: 11 am – 9 pm
Sunday: 11 am – 6 pm
Heures d'ouverture:
Du 6 au 15 décembre 2019
Du lundi au samedi : de 11 h à 21 h
Dimanche : de 11 h à 18 h
Location:
Place Bonaventure
240 – 800 Gauchetière Street West
Montreal, QC
Lieu:
Place Bonaventure
800, rue de la Gauchetière Ouest
Montréal (Québec)  H5A 1K6
Admission:
FREE!
Entrée:
GRATUITE!
Sherri Hrycay
Milliner | Chapelier
info@sovadesign.ca
sovadesign.ca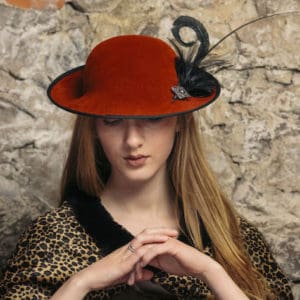 Sherri Hrycay has been making hats for nearly 20 years. In this time she has attended masterclasses in the UK, France, The Netherlands, and Australia. Sherri's designs are inspired by the flamboyant culture of the 1920s. Sherri sells at her own store in Saskatoon, Saskatchewan and at markets across Canada.
---
Sherri Hrycay fabrique des chapeaux depuis près de 20 ans. À cette époque, elle a suivi des masterclass au Royaume-Uni, en France, aux Pays-Bas et en Australie. Les designs de Sherri s'inspirent de la culture flamboyante des années 1920. Sherri vend dans son propre magasin à Saskatoon et sur les marchés canadiens.
Mary Lynn Podiluk
Jewellery | Joaillière
info@marylynnpodiluk.com
marylynnpodiluk.com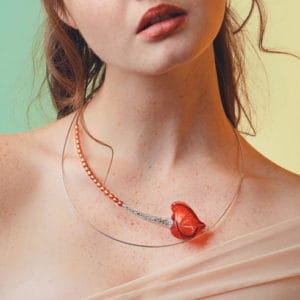 Mary Lynn Podiluk is a Canadian Art Jeweller & Goldsmith who explores concepts of language and sound through precious metals and contemporary materials. She studied linguistics at the University of Saskatchewan and received a BFA in Jewellery Design and Metalsmithing from NSCAD University in 2012. Shortly thereafter, she won the Canadian National Jewellery Student Competition (Ottawa, ON) and has gone on to exhibit her work nationally and internationally. Most recently, Mary Lynn was the 2019 recipient of the RBC Emerging Artist Award at the Saskatchewan Arts Awards. Her work has been juried into the last four biennial SK Craft Council Dimensions exhibitions, and has received awards for excellence in fine craft, production ware and innovation in craft. She is a two-time NICHE Award winner (Washington, DC), including one for her teapot 'Metalanguage' which now resides with the Kamm Teapot Foundation. Her work can also be found in the Saskatchewan Arts Board's Permanent Collection and the estate of Carrie Fisher.
Mary Lynn's studio practice integrates her passion for art and her fascination with linguistics. Viewing natural objects through perspectives of speech and sound, her work alludes to aspects of language through anatomical and organic forms, linguistic textures and acoustic representations. She brings a foundation of traditional goldsmithing to a contemporary space by exploring alternative materials and techniques which she has adapted and refined through continuous self-directed experimentation. Precious metals, gemstones and glass-like resin come together to create an interplay of light and colour between lustrous surfaces and vibrant transparency. The result is sculptural, expressive work that speaks to the viewer, whether on the body or on display.
---
La joaillère contemporaine canadienne Mary Lynn Podiluk conjugue concepts sonores et expression visuelle en alliant métaux précieux et matières non conventionnelles. Elle a étudié la linguistique à l'Université de la Saskatchewan et obtenu un baccalauréat ès arts en joaillerie et orfèvrerie de l'Université NSCAD en 2012. À sa sortie de l'université, elle a remporté le Concours national canadien des étudiants en joaillerie (Ottawa, Ont.) et a exposé son travail tant au pays qu'à l'étranger. En 2019, lors des Saskatchewan Arts Awards, elle a remporté le prix RBC pour l'artiste émergent. Son travail a été sélectionné par le jury des quatre dernières biennales Dimensions organisées par le Saskatchewan Craft Council et lui a valu des prix d'excellence dans les catégories « Métiers d'art », « Objets fonctionnels » et « Innovation ». Elle a remporté deux fois le prix NICHE (Washington, DC). Son théière Metalanguage, qui a été récompensé par ce prix, se trouve maintenant au Kamm Teapot Foundation. Son travail fait également partie de la collection permanente du Saskatchewan Arts Board et de la succession de l'actrice Carrie Fisher.
Sa démarche artistique concilie sa passion pour l'art et sa fascination pour la linguistique. À partir d'objets naturels vus à travers le prisme de la parole et des sonorités, son travail évoque les multiples dimensions du langage au moyen de formes anatomiques et organiques, de textures linguistiques et de représentations acoustiques. Elle applique les principes de l'orfèvrerie traditionnelle à une démarche contemporaine en jouant avec les matières et les techniques non conventionnelles qu'elle adapte et perfectionne sans cesse au cours de ses expérimentations personnelles. Métaux précieux, gemmes et résine délicate comme le verre, mais plus résistante, se marient pour créer un jeu de lumière et de couleur entre les surfaces iridescentes et les vibrants effets de transparence. Qu'il s'agisse de bijoux ou de pièces d'exposition, les objets évocateurs et sculpturaux qui en résultent parlent aux sens
Kathleen  O'Grady
Fashion Designer | Designer de mode
info@gradybleu.com
gradybleu.com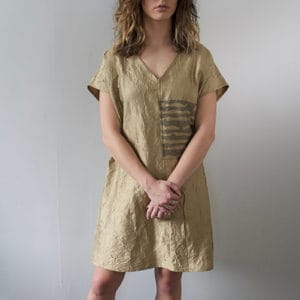 As an independent clothing designer in Saskatoon, Saskatchewan, Kathleen O'Grady's goal is to make beautiful, wearable clothing for women who appreciate quality and authentic simplicity in their dress. Combining old world sensibilities with contemporary design, she creates garments that have timeless and enduring appeal.
---
En tant que designer de vêtements, l'objectif de Kathleen O'Grady est de créer de beaux vêtements pour femmes qui apprécient la qualité et la simplicité authentique. En embrassant le mouvement Slow Clothing tout en en mettant l'accent sur l'artisanat de qualité, elle crée de petites collections de d'accessoires. Elle aime utiliser des colorants naturels dans ses écharpes, qu'elle teint à la main. Combinant la sensibilité de la vielle mode avec un design contemporain, elle crée des vêtements d'un attrait intemporel et durable
Saskatchewan Craft Council gratefully acknowledges the support of

Le Saskatchewan Craft Council remercie de son soutien Creative Saskatchewan