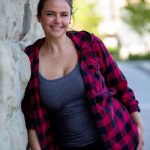 Alana Biffert's obsession for glass is mirrored by the depth of her skill set, materialized, through her passion for the Arts. A European upbringing constructed the first decade of Biffert's life in the glass culture of Malta, a small island in the Mediterranean Sea. Glass engulfed her childhood with a dream of becoming a glassblower.
Biffert took home a Bachelor of Fine Arts in Glass from Alberta University of the Arts in 2008. Through volunteering locally, she landed a life changing job as a Glass technician at Red Deer College. Opportunities blossomed and after working with several well-known local artists, Biffert spent the next two years in her pursuit on a professional level.
Welcoming every opportunity, this Commonwealth cavalier worked with various talents in both New Zealand and Australia in her travels down under. Fourteen years entrusted into this endless love affair has placed Biffert back into the bosom of Alberta. Enthusiastic to learn and accumulate techniques, she persisted in teaching glass at Alberta University of the Arts for seven years and is eager to share her inspirations collected. She has attended Corning Museum of glass as well as other well-known studios, as she continues to build her knowledge and understanding of this demanding material. Her goal is to learn all there is to know about glass.
With a multifaceted set of skills, Biffert focuses her energy on concept driven, large-scale installations. She has recently exhibited her collaborative work with Marta Gorski in a solo show in Edmonton, Alberta Canada at The Harcourt House. Currently, Biffert is exhibiting her first solo, public art exhibit at The Devonian Gardens titled Opulence, which will be displayed for ten months. Drawing her inspiration from the leafy essence of the mountain forests, and the human condition, her works surround permanent impressions left.