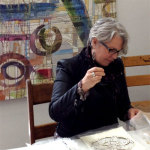 After practicing as an RN for many years, Babyn enrolled in the Visual Arts program at the Ontario College of Art and Design University, where she obtained her BFA with Honours in Drawing and Painting in 2005.
Prior to moving to Saskatoon from Ontario in 2011, Babyn taught art to children and adults at the Caledon Art Studio and School which she founded and at King's College (a local private school). She currently teaches art part time at USCAD and AYAP and volunteers one morning a week at St. Paul's Hospital, assisting in their Art Therapy Program.
In recent years she has progressed from large non-objective paintings on canvas to creating mixed media works that explore sacred geometry and Fibonacci number sequences. In September 2014, Babyn commenced her MFA at the University of Saskatchewan, where she plans to further explore the relationship between mathematics and spirituality through installation-based work.
Since 2003, Babyn has had many solo shows as a member of Loop Gallery in Toronto. She has exhibited in Ferrara, Italy and participated in numerous juried art shows in Toronto and the surrounding area,(some of which include Propeller Gallery, Spin Gallery, Lyndia Terre Gallery, Peel Heritage and McMichael Gallery). Her work appears in corporate and private collections in Canada, Switzerland and Germany. Babyn's work was selected to represent OCADU's annual graduation exhibition's promotional material and she was the recipient of Headwater's Jurors Choice Award in Ontario.