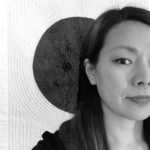 I never imagined when I moved to a small town in Saskatchewan in February 2011 that I would find the inspiration to become an artist. I bought a sewing machine and started quilting in 2016. I am currently exploring modern quilts and art quilts. I find inspiration from the people around me, as well as the world of nature in Saskatchewan and Japan, where I was born.
When I began quilting, I was drawn to minimal designs inspired by the Japanese concept of "Wabi-Sabi." "Wabi-Sabi" means finding beauty in imperfection and simplicity. Richness does not mean something shiny, like gold or silver. Through this concept, we focus on the history behind an object, the people who were involved in creating it. I am inspired by a piece of old tree bark, a lake, stones, the long white Canadian winter…
My mother encouraged me to be an artist. She always wanted me to find a medium I really enjoyed. I tried many crafts and art forms before landing on quilting. In modern and art quilting, I am free to express myself. As a young woman, I attended kimono classes – learning how to wear them and how to care for them. I watched my mother carefully holding, hanging, and folding her kimonos. There was beauty in the movement of her hands as she did this. I feel this same beauty when I use my sewing machine or hand stitch a piece. I feel the fabric has a life of its own.
Life unfolds and today I appreciate the new worlds I am discovering through the community of quilters. Quilters have a certain energy, a power. I am enjoying the circle of friends I have found.
CONTACT
Hanna Farquharson Quilt Studio