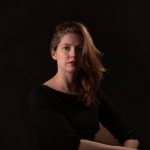 Jeanie Andronyk is a trained goldsmith and self-taught artist. Her obsession with rings began while working under Leanne Gallagher of Queen Bee Design, and then later with a focus of Jewellery and Small Object Design at the Vancouver Metal Art School with Master Goldsmith Gerold Mueller. Her sculptural interests evolved from there with an emphasis on form, feeling, and character.
Working in clay, plaster, bronze, wax, and gold, Jeanie's pieces walk the line of futuristic and ancient, anthropomorphic and inanimate, drawing connections to geological formations and the natural world.
Jeanie Andronyk currently lives on a farm near Shaunavon, Saskatchewan, using the stark prairie landscapes and open skies as a backdrop to her artistic process.
Instagram: andronykstudio