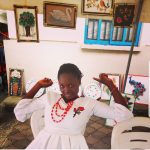 Julianah Fabi has a background in agriculture and obtained her B.A in Nigeria. Fabi developed a passion for craft while working on her undergraduate degree and loves to be creative in everything she does. Fabi recognizes the importance of reducing waste and minimizing our environmental footprint by making the best out of upcycled materials such as paper, old tires, restored furniture, clothing, wood, and nails.
After the completion of her degree in 2014, she did an apprenticeship in interior design and décor. Soon after, she ventured fully into craft, interior décor and pastry making, beginning her business in 2016. She was awarded Best Craftsperson in 2017 which was organised by a provincial organization, and her craft was featured on national television: Galaxy TV, in Nigeria.
Fabi uses her craft and pastry making to foster love and community among the people around her. She appreciates seeing the ways her food and craft make lasting memories between family and friends. Since moving to Canada in 2019, Fabi hopes to bring this feeling of love in the community to bridge the distance between families living in Saskatchewan.
Looking forward, Fabi is enthusiastic about her quilling, paper flowers and collage works. She will continue to broaden her skills and take on new craft media while continuing to bake and expand her business.