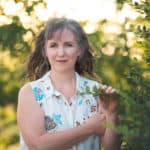 As far back as I can remember, I have been creating. When I was 10, I sold my first piece of art in my Dad's art store. Since then, I have worked with paints, knitting, needle work, mixed media, card making, and painting on silk but my newest love is pottery. I took a pottery course at the Art Gallery of Swift Current in the fall of 2014. Lloyd Garthus was my pottery instructor. I fell in love with pottery right away and five weeks after touching clay for the first time, I had my own pottery studio.
I make functional pieces: plates, bowls, mugs, pitchers and vases. I love being able to take a lump of clay that has come from Saskatchewan ground and make something beautiful out of it. Each piece is unique and sometimes has a story that goes with it. I have been experimenting with a variety of glazes and underglazes and feel I am beginning to find my own style.
I have heard many potters say how making pottery can be healing and it is true. The whole process — forming the piece, the quiet time of sanding, the creative glazing, and the very exciting revealing of the finished product — is healing for the soul.
I live 9 kilometers east of Swift Current with my husband. We have four grown children and, so far, we have six grandchildren. We have transformed our walkout basement into a pottery studio and are open to public.
CONTACT
Kim Undseth Pottery