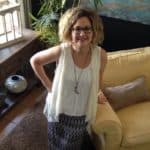 As long as I can remember, I have always been a dreamer… I have always seen things in my own unique way. I grew up in Moose Jaw, Saskatchewan drawing, painting and creating for hours on end. I continued to have a desire for creativeness well into high school. In my early twenties, I graduated from the University of Regina with a Bachelor of Arts Education and went on to pursue a career in teaching. I taught elementary school for almost ten years.
In the Fall of 2014 I returned to my love of painting and found my own figurative style. My first painting in this style, Lucy in the Yellow Dress, was done at my kitchen table. As I painted a creative energy flowed through me. It felt like a dance between myself, the water, and the paint. It was in this moment that I tapped into my intuition and started to listen to my inner voice.  "Created by Heart, Painted by Soul" has become my tag line.
Since that day, I have embraced my painting and now live with a creative purpose. For myself the creative process is an experience that is spiritual ~ being in the present moment, finding the stillness within, listening to my inner voice and creating beauty. I feel most authentic when I am creating.
My paintings are my interpretations of beautiful women who are passionate about life. These women have continued to transform as I have evolved as an artist. They are clever, playful and a little bit out of the ordinary… in an endearing way. My signature female characters are intriguing women with quaint clothing: vintage dresses, stripped stockings, fun floral patterns and everything in between.
My artistic journey is now my full-time career. I could not follow this path without the love and support of my friends and family. My husband, Kieran, and two children, Luke and Lincoln, make it possible for me to do what I love. And for that, I am truly blessed.
CONTACT
Laura Hamilton Art
Home Studio: Laura Hamilton Studio, 128 Blue Sage Drive, Moose Jaw, SK
Gallery & Retail Representation:
Ellen's On Main, Moose Jaw, SK
The Perfect Find, Moose Jaw, SK
Casa Decor, Regina SK
Jocelyn's Fine Art Gallery, Esterhazy, SK