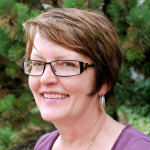 ARTIST STATEMENT
Making art is an important part of my life. As a child I dug my own clay to make sun-dried objects and spent many hours drawing and painting. As I grew older, I explored textiles and sculpture and formalized my interest by taking workshops and classes.
The creative ideas I have are balanced by the resistance of the material. It is exciting and satisfying to design a glass piece and learn what the glass will and will not do.
Through the use of sandblasting, metal foil and layering various colors, glass is transformed in the heat of the kiln into amazing colors, textures and forms.
PERSONAL / PROFESSIONAL ART EXPERIENCE
After completing a BA in Art and History I took a year of Education and began teaching Art. Building on the basic drawing and design classes, I discovered that I enjoyed doing pottery, fabric painting, watercolours, sculpture and collage.
Several years ago I took a introductory Glass Fusing Class through the University of Saskatchewan's Continuing Education Dept. given by Lee Brady. It was wonderful! I realized that I wanted to focus on Glass Fusing.
Soon after, I was fortunate to be accepted into the Canadian Artists' Federation Mentorship Program with Lee as my mentor. This allowed me to work with him to improve my creative and technical skills.
As a member of the Saskatoon Glassworkers' Guild, I have taken several workshops including glass casting, working with powders and painting on glass. The Guild also provides a venue for showcasing glass at their annual spring Glassworks Show.
Through "Dimensions", a juried exhibition sponsored by the Saskatchewan Craft Council, my work has been selected twice to represent Saskatchewan craft.
My work is currently in galleries across Western Canada.
Gallery Representation:
SCC Fine Craft Boutique, Saskatoon, SK
Arts On Atlantic Gallery, Calgary, AB
Gallery 223, Nanaimo, BC
The Avenue Gallery, Victoria, BC