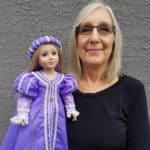 Nancy has loved to create her whole life. As a child she enjoyed drawing, painting and sewing.
She has taught classes to both adults and children on papier-mâché, stamping, watercolour painting and sewing. Nancy has worked with many types of art mediums and finds it hard to zero in on one craft. She began making art dolls in 2006 and found that they were the perfect outlet. She can incorporate all her interests: sewing, painting, papier-mâché, polymer clay, beading and wood working – the possibilities are endless.
Wanda the fairy doll was her very first art doll. The papier-mâché mushrooms are from Nancy's own recipe made from egg cartons.
The highlight of Nancy's art career was an article about her and her doll making in the Regina Leader Post, September 2016.
Nancy makes commissioned art dolls to look like real people and is currently working on a doll to look like her grandfather. She also fills her time creating costumes for collector dolls and other dolls. Nancy uses her extensive stash of vintage fabrics, fibres, beads and many other treasures she has collected over the years.
Nancy also makes mini mixed media canvases using watercolour paper and other recycled objects. She loves the three-dimensional effect.
CONTACT
Creative Clothes for Dolls
Gallery Representation:
Rumour Handcraft Gallery, Regina, SK