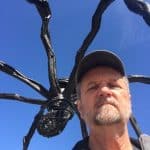 Paul Constable graduated ACAD in Calgary, 1976, majoring in Visual Communications. He had a 30year career as an Art Director / Senior Graphic Designer and illustrator. Working at The Marketing Den for 23 years (now LMNO), he helped market and develop brand identities for clients like Great Western Brewery, Blue Cross Insurance, Saskatchewan Crop Insurance, SaskTel and designed over 100 Hospital Home Lottery campaigns across Canada.
Paul's fine art career started the moment he could hold a paint brush. Now as a landscape painter, printmaker and Sculptor / Installation artist, his work has become multi-facetted. Today his artwork subjects depict a strong social and environmental undertone. His sculpture generally uses recycled and repurposed materials.
Paul is a past board member of CARFAC Saskatchewan (2013-2019) and is a past Board Member of the Saskatchewan Craft Council (2000-2012. He has had numerous solo shows and public exhibitions and participated in local and national art juries, exhibition curations, lectures and gives workshops. His work can be seen at the Saskatchewan legislature, in corporate and personal collections across Canada and Internationally. You can see more of his work on his website.
In 2000, as owner and Director, he formed ArtistsInCanada.com, now Canada's largest independent Canadian Artist's website and Social Media Directory. It connects over 8,900 Canadian artists to art patrons, art galleries, curators and other art interested viewers. Artists in Canada also helps sponsor art events like Art Vancouver and ArtNow – Saskatchewan. In 2016 he developed an independently managed Pension Plan for Canadian Visual Artists.
CONTACT
Email: p.constable@sasktel.net
Website: www.artistsincanada.com
www.paulconstable.com