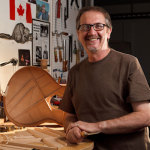 From his very first attempts at instrument building in 1972 to owning a great looking guitar shop on Dewdney Avenue in Regina, Peter Allan Sawchyn has devoted his life to building fine handmade guitars and mandolins. Peter is self taught, perfecting his craft through extensive research along with trial and error.
Peter uses exotic woods such as Rosewood from India, Mahoganies from Central America and Ebony from Africa, as well as world famous tone wood such as Sitka Spruce and big leaf Maple from Canada. Using this combination of exotic and domestic tone woods, Peter hand makes each instrument focusing on sound playability and beauty. Precision joinery, detailed inlay work and immaculate finishes are a hallmark of his work.
As a guitar player and owner of a Sawchyn guitar, Canadian singer songwriter Joel Fafard says, "[Peter] builds them to sound good and that's one of the things I've noticed about other guitars. Some others have heavy finishes or the braces are too heavy to try to make them last longer or look prettier in the store longer without being scratched. Peter doesn't get caught up in that stuff, he just makes good guitars."
Peter has endeavoured over the past years to build both beauty and simplicity of craftsmanship into all his instruments. Concentrating on the interior construction, he has refined his guitar bracing to emulate and hopefully surpass the great pre-war guitars so sought after today. His mandolins also have the exacting and careful graduations that famous mandolins in the 1920s have.
This may be a "golden area" of instrument making. Peter hopes that his work is helping to make it so.
CONTACT
Sawchyn Guitars
Location: 2132 Dewdney Avenue, Regina, SK
Available for sale at:
Dusty Strings, Seattle, Washington
Folkway Music, Waterloo, ON
Myhre's Music, Edmonton, AB