Rusty Kurenda
May 31, 1946 – August 16, 2017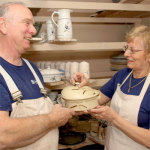 Ron & Rusty Kurenda were founding members of the Saskatchewan Craft Council in 1975. In 2008, after 35 years of marketing work for 40 to 50 other Saskatchewan artists, they retired from their retail pottery shop in downtown Saskatoon.
Ron & Rusty's first love was functional work: purposeful pieces which are a joy to own, a pleasure to use, and a tasteful gift to give others. It is with great attention to detail and function that they carefully handcrafted each distinctive piece.
Ron and Rusty mounted a solo gallery exhibition at the Francis Morrison branch of the Saskatoon Library in 1986. In 2009, 120 Kurenda pottery pieces made their way to the Canadian Marketplace at the Cheongju International Craft Biennial in Cheongju, Korea.
Ron & Rusty believed it was equally important to pass on their skills by teaching at workshops, seminars, and acting as mentors to others. Ron served as President of the Sundog Arts Society for 7 years. Rusty served on the Board of the Saskatchewan Craft Council and was a past Chair.
Rusty began her training with private classes in the winter of 1972, followed by classes with Folmer Hansen and David Ross at the Summer School of the Arts, Fort Qu'Appelle, Saskatchewan. Yet even 36 years later, Ron & Rusty continued to develop their technical and artistic skills by attending workshops and seminars with some of the greats in the ceramic world including Daniel Rhodes, Carlton Ball, Joe Fafard, Michael Cardew, Robin Hopper, Bill Shinn and John Chalke and David Leach. Sadly, Rusty Kurenda passed away in 2017. Ron continues to enjoy devoting his time to pottery.
CONTACT
Prairie Pottery
Phone: 306.242.8050
Gallery Representation:
SCC Fine Craft Boutique
, Saskatoon, SK
Clay Studio Three
, Saskatoon
McQuarries Coffee Merchants
, Saskatoon, SK
Mackenzie Art Gallery
, Regina, SK
Traditions Handcraft Gallery
, Regina, SK
Western Development Museum
, Saskatoon, SK