Waldheim School Industrial Arts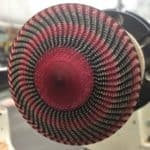 Waldheim School is a Kindergarten to grade 12 school located in the town of Waldheim Saskatchewan, about 40 miles north of Saskatoon. Students enter the shop program in grade 7 and may continue through to grade 12. The goals of the program are to encourage students to be creative and to experiment with different forms of wood and metal craft.  High school students enjoy almost complete freedom when it comes to project choice. The hope is that students who choose their own pathway to learning will be more committed, persistent and engaged. The shop is well known for the guitars that are produced each year. Over the years, the lutherie program developed at the school has produced many electric, as well as, a handful of acoustic guitars. Ukuleles are also produced. Because project choices are student-driven, many unique projects are produced each year. Over the years, students have produced everything from an OSB slat hammock, to crokinole boards, to toboggans, to skateboards and long boards, and every type of furniture project imaginable.
Students are exposed to many craft forms in the Industrial Arts program. Aside from the lutherie component, students can study intarsia, woodturning, inlay, jewellery making, chainmaille, sheet metal work, welding and all manner of woodworking. The program is driven by students wanting to try new and exciting projects which pushes their creativity and problem-solving ability to the limits.