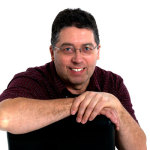 Zach Dietrich is a graduate of the University of Regina. He then attended pottery classes at the University of Regina Extension Department for two years. There he studied with Mel Bolen and Donovan Chester before moving to Endeavour with his wife and business partner Wendy Parsons and setting up a pottery studio. At Endeavour, they built and fired a wood burning kiln. In 1980, they moved to Moose Jaw where they bought a little church for a studio/gallery and built a gas fired kiln.
Zach has recieved the 'Best in Clay Award' at the Saskatchewan Craft Council's annual juried exhibition, received Saskatchewan Arts Board grants and shown his work extensively. He is a juried member of the Saskatchewan Craft Council and served on its board for many years. Zach has also been active on the Sask Culture Board and the Moose Jaw Museum & Art Gallery's board.
Zach is a member of CARFAC, the Moose Jaw Museum & Art Gallery and the Saskatchewan Craft Council. His work has been collected by the Moose Jaw Museum & Art Gallery and Prince Edward. Zach has taught many classes and workshops. Lately he and Wendy have been involved with four ArtSmart projects, funded by the Saskatchewan Arts Board.
CONTACT
Parsons Dietrich Pottery
Gallery Representation:
SCC Fine Craft Boutique
, Saskatoon, SK
Moose Jaw Museum & Art Gallery
, Moose Jaw, SK
Parsons Dietrich Pottery
, Moose Jaw, SK
Traditions Handcraft Gallery
, Regina, SK