In 2015, the SCC is celebrating its 40th anniversary. In 1975, fifty-seven Saskatchewan artisans organized themselves into a determined force with a single voice and a common purpose. That purpose was to promote and raise the profile of Saskatchewan artisans, improve the quality of work produced, and facilitate communication among the membership. Each of these people donated just $5 to this cause and the Saskatchewan Craft Council was born. You can read more about our history here.
Our board members and staff have come together to conduct interviews with as many of these founding members as we can, in celebration of this milestone. We are interested in these founders' thoughts around why we came into being and their insights for the future.
Evan Quick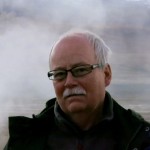 Evan was born and raised in Regina, and has spent his entire life there. After graduating from the University of Saskatchewan, Evan started working for Air Canada as a means of supporting himself while pursuing ceramic sculpture. Unfortunately, life got in the way and his art took a back seat, until he retired. He is happy to be working with ceramics again.
In the past number of years, Evan has been heavily involved in fundraising for The Arthritis Society through their Joints in Motion program. He's proud that through that organization he's met exceptional people, taken part in a many challenging events (treks, cycle tours), experienced personal growth, and raised a healthy sum for a most worthy cause.
What compelled you to throw your $5 and yourself into creating a new organization dedicated to supporting craft?
I honestly cannot remember, that was three lifetimes ago! But I expect… in 1975, I was a BFA student at the U of S studying under Jim Thornsbury, his influence may have something to do with my decision to jump in.
What are you most proud of over the last 40 years?
Watching my three children grow into fine adults.
What has disappointed you?
I don't dwell on past errors much. That said, I suppose not pursuing artistic endeavours harder is a tad disappointing. Things happen for a reason so I don't lose sleep over it.
What are your hopes for the future?
I'm now retired from over 37 years employed by Air Canada. I am again pursuing ceramic sculpture. I have a studio at "Flatlands," an artist's co-op in Regina. I'm enjoying the creative exercise and physical process of working with clay as much as I did when I was younger. It's so nice to be again getting my hands dirty with clay and interacting with artists to a greater degree!
What are you doing to celebrate Craft Year 2015 and our 40th anniversary?
Directly, nothing, other than pursuing my work at Flatlands.