Written by Dawn Rogal
For many artists the heat of a Saskatchewan summer brings visions of sugarplums. It's that time when we begin to prepare items for the Saskatchewan Craft Council's Holiday Boutique. It's not difficult to get into the spirit because it's a chance to try something just a little different, a little outside of our usual art practice, and a little magical.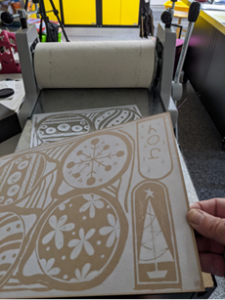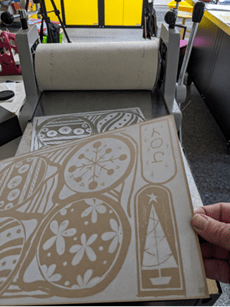 I am juried for both Printmaking and Mixed Media so my goal this year in creating items was to feature both techniques. This year I went in with a solid plan. I checked in with our Boutique managers and got the go ahead. I really wanted to make holiday cards, a polar bear, a hand stitched banner and perhaps an ornament or two.
This year I wanted to print holiday cards using my small etching press. Hand printing cards is labour intensive and doesn't always make sense to do at a price point that is fair to the artist and the consumer. But I was determined! Designing the card, carving the linoleum, inking, and printing, testing, revising, it all takes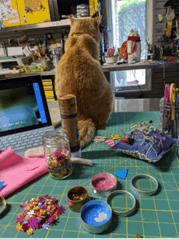 time. My plan worked and I'll have some lovely cards and gift tags ready.
My mixed media pieces are fibre based, usually sculptural and always stitched by hand. The banner was a joy to create, taking approximately 20 hours to design, stitch and finish. Mid-Century Modern style is very popular, and I enjoy the colours and simple designs. I've been making some lovely small bears this summer so coming up with a polar bear design seemed simple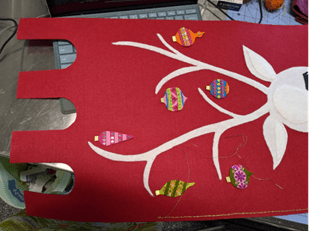 enough. Until it wasn't. The proportions were wrong, the face askew but it did remind me of something! Look for a very cute yeti bundled up in a bright red scarf! I'd like to say that I'm done and ready for my summer holiday but honestly, I have a few more ideas in mind and I'm having way too much fun.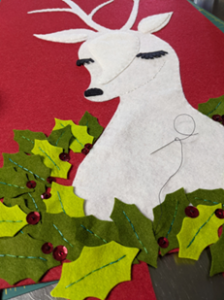 The SCC juries each of its artists and many of them choose to sell their work in the Boutique. It is a privilege to be represented by the Craft Council. Lesley Sutherland and Jean Price do an exceptional job in displaying and talking to buyers about our work. All pieces are also featured in an online gallery managed by Alix Gowan. Sydney Luther makes sure that our work is shown on various social media platforms. The support of the SCC staff allows its artists to focus on designing and creating fine craft objects. This fall, whether you are shopping for a gift or home décor, be sure to check out the wonderful work of the SCC artists in the Holiday Boutique.  
_____________________________________________ 
Since January of 2008 Dawn has worked as a printmaker and continues to insist that she is a printmaker. However, when the printmaking gods are not with her, Dawn retreats to her comfort zone and the results are structural textile pieces stitched entirely by hand from fabrics, fibers, beads and found items. Dawn is strongly influenced by natural history, both real and imagined.