Submitted by: Amanda Bosiak, Member Services
"The table has been set, a feast has been prepared, and now – at last – we are called to gather to partake in the bounty being offered"
At first glance, Affinity Gallery looks a little bare right now. There is nothing on the walls, and the pedestals seem sparse. Come in however, and you will see that on the pedestals are intricate, whimsical and wonderful little worlds based around the preparation and consumption of daily meals.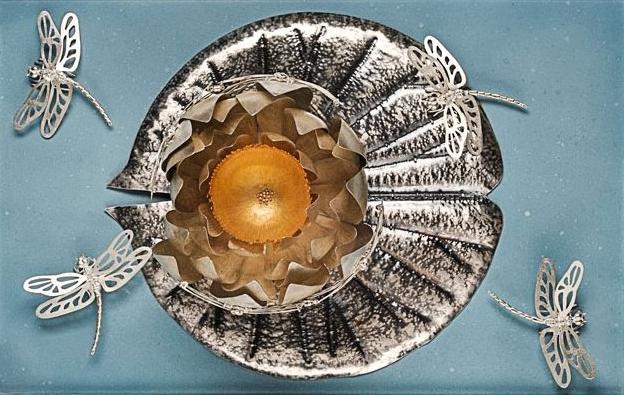 Elizabeth Goluch
Dragonfly Bowl
Sterling Silver, 14k gold, gold plate, Argent sterling, metal dore
À table! is an exhibition from the Metal Collective, a group of Canadian metalsmiths, whose aim is to raise the awareness of Canadian metalsmithing. Among the artists in the collective are three Sayde Bronfman Award winners: Lois Etherington Betteridge, Chantal Gilbert and Kye-Yeon Sun. Gilbert also acted as a juror (along with Mel Bolen) for Dimensions in 2009. You can view the catalogue to learn more about the artists, and copies are available for purchase at Affinity Gallery while the show is up. Affinity Gallery is the only Saskatchewan gallery scheduled for the exhibitions tour across Canada.
The reception for À table! takes place Friday July 5, 7-9pm at Affinity Gallery, 813 Broadway Avenue, Saskatoon, SK. À table! will be on exhibit at Affinity Gallery until August 5th, 2013.