Written by: Anita Rocamora, artist featured in "Material Grace" in SCC Gallery

My work is grounded in the fine craft ethic, and the vessel is the foundation of my practice. Everything that has life is a vessel, and that continues to be my subtle connection to traditional ceramics. That said, I have pursued an aesthetic that does not quite fit in the fine craft tradition.  I like broken old things, erosion and rust, wrinkled, fossilized remains. This concept has long been an interest in my work, and has resulted in increasingly abstracted forms.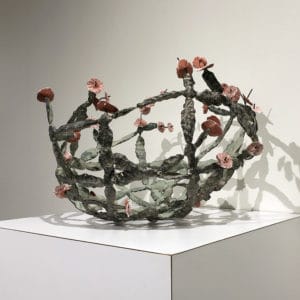 The subject of this exhibition is the underlying architecture of natural forms—interpreted and imagined into new forms through ceramics, metal, and mixed media. Using elemental materials I re-imagine small complex things and intangible and ephemeral moments; frost and wind, networks of light and shadows, water and rust, erosion, decay. I use materials and techniques that document, not only in appearance but also in process, the changing nature of living things. This is done by using materials that are transformed by fire, water, and chemical reactions during the building and firing cycles. In this particular body of work, I draw inspiration mostly from the skeletons of plants and animals, when the leaves, seeds, flesh have gone, and what is left are the bones, tangled and stark, kept alive visually by the action of light and wind.
Using nature as a metaphor for the human experience is not a new concept, but where else but in nature will a person find reason and purpose, and make peace with the business of being alive, or how to grow and age with beauty and grace? I do not ascribe magical powers to the natural world.  It is enough for me that the unfolding of its secret mechanisms sustains a lifetime of wonders. I strive to give form, with respect and honesty, to the visual information and enquiries elicited by the observation of natural processes and transformations, throughout a day, a season, through many years of my lifetime.
Nature teaches me everything I need to know about the world, and how to live: my human identity, how to be of this earth and not just on this earth, my guiding principles of social and environmental justice, appreciating and learning from the beauty of the essential, and the processes of life, decay and death.
This is what underlies the art I make, a long and deliberate journal of what I learn about the world, and about myself as a creature in this world, among many others.
---