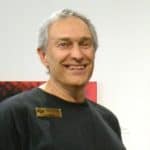 Longtime SCC staff member Leslie Potter has decided to retire. Les has decades of experience as a practicing artist, teacher, curator, preparator and vital member of the artistic community of Saskatchewan AND of course, as an SCC staff member.
As we celebrate his time with us over the next three months, the Saskatchewan Craft Council will be running Ask Les, your opportunity to ask him anything, about anything.
Submit your questions to: scc.newsletter@sasktel.net. Please put Ask Les in the subject line.
We accept any and all questions (but can't guarantee they will all be answered)!
Not all gallery walls are perfect. Les, can you give some tips on how you've dealt in the past with crooked walls or uneven floors?
In a word: EYEBALL. When I first started at the SCC we used to measure from the floor to hang stuff only to find that everything looked really out of kilter. And if we used the level, it too would produce less than satisfactory results. Before we got the tile in the gallery, the floor had discrepancies of almost 5 inches.  After some levelling and filling and installing the tile it is still about 2-3 inches out of whack.  So we learned to just "feel" it out.
What are you looking forward to most about your new free time?
Getting to know myself better. Getting to know and letting go.
Les, settle this, once and for all… Is there life out there?
– Signed: Maybe married to an alien (not that there's anything wrong with that)
All I can say is what is your sex life like?