Submitted by: Carmen Milenkovic, Executive Director
Say it isn't so… Les Potter is retiring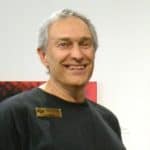 On April 15, 1993, Leslie Potter joined the staff of the Saskatchewan Craft Council. For the past 23 years he has been the heart and soul of the organization and with that the keeper of knowledge and integrity; the wise man, so to speak. He is thoughtful, supportive, flexible and inventive. He puts great faith in what you do, and challenges all of us to take risks and to remember that the creative process is at the core of everything we do.
Les has decided to retire. He'll take his leave in mid-August, but has agreed to consult with us if ever we need his sage advice.  He's told us that he doesn't want a foofaraw – as if we're going to listen to that.  We'll invite you to a send-off in the fall.
Until then….
Ask Les…He'll tell you a thing or two
Leslie Potter has decades of experience as a practicing artist, teacher, curator, preparator and vital member of the artistic community of Saskatchewan AND of course, as an SCC staff member.
As we celebrate his time with us over the next three months, the Saskatchewan Craft Council blog will be running Ask Les, your opportunity to ask him anything, about anything. Do you want to know what it was like to have an office in the basement of this building, surrounded by smokers? What about the difference between installing a ceramics show versus a fibre exhibition? How about the art of balancing the life of a creator, an innovator, an educator, a thinker, a musician, a motivator and a collaborator? How did he become the best packer of fine craft? What's he going to do with his free time?
Submit your questions to: scc.newsletter@sasktel.net. Please put Ask Les in the subject line.
We accept any and all questions (but can't guarantee they will all be answered)!
Introducing Maia Stark … Our newly appointed Exhibitions & Education Coordinator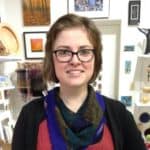 Maia Stark has agreed to become our second Exhibitions & Education Coordinator, job-sharing with Stephanie Canning as Les's replacement. Maia has a Masters of Fine Arts in Studio Art from the University of Saskatchewan. She was nominated for the WAGS Distinguished Master's Thesis Award by supervising Graduate Committee (Tim Nowlin, Graham Fowler and Joan Borsa) for her thesis, "SelfSame." Maia has worked alongside Les Potter for the past year while Stephanie was on maternity leave. It has been a yearlong mentorship where she has had the opportunity to co-curate exhibitions, plus manage the Dimensions process. The SCC is fortunate that we are able to build on this experience. Les is leaving us in good hands, having mentored both Stephanie and Maia.
Les, Maia and Steph will continue to work as a team until mid-August.