Written by: Alexa Hainsworth, Member Services Coordinator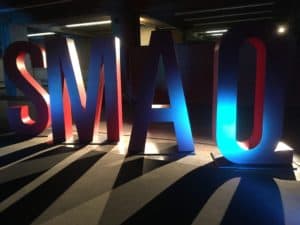 Salon des métiers d'art du Quebec (SMAQ) took place December 6 to 16, 2018. It was the 63rd annual show in downtown Montreal at Place Bonaventure. This was the first time the Saskatchewan Craft Council has attended this fine craft market, thanks to the support of Creative Saskatchewan. SMAQ was an was the ideal venue to showcase the talent of three Saskatchewan Craft Council professional craftspeople: Sherri Hrycay of Sova Design Millinery, Kathleen O'Grady of grady bleu, and Mary Lynn Podiluk Art Jeweller & Goldsmith to promote their businesses to a Quebec audience.
View this post on Instagram
The Saskatchewan Craft Council booth entitled "Wear Saskatchewan / Portez la Saskatchewan" sparkled. The theme of the SCC booth played on wearable fine craft and where the craftspeople are from. Our SCC booth was greeted with big smiles from the Montreal community. People walking by were excited to see our booth for the first time at this show. They would stop, squint at the sign above and say "Saskatchewan? You have come from very far away to attend!" Intrigued, they would get closer to see what we had brought with us and to ask questions en français. The public was impressed with our bilingual signage that explained in more detail what we could not pronounce and we were even given language lessons from time to time; which was a fun and educational exchange.
Interestingly a retired Linguist happened upon our booth. She was really taken by Mary Lynn Podiluk's work which, coincidentally, is inspired by linguistics. She noted that all of our translations looked perfect and that she really appreciated that they were in French and grammatically accurate! Visually, our three members' craft spoke for itself; charming attendees through design, bold colours, varied textures and materiality. It was very apparent to all that not only were Kathleen O'Grady, Mary Lynn Podiluk, and Sherri Hrycay highly creative people, but they are also very professional and disciplined in the development of their individual craft practices as a means to achieving a very specific aesthetics and beautifully finished products.
View this post on Instagram
Kathleen O'Grady took a lot of care in explaining her natural dye process to customers. All of ther wool and linen scarves were presented so beautifully in an array colours reminiscent of fresh spices and refreshing gelato ice cream. Attendees couldn't resist the chance to feel them and then wrap them around their shoulders.
"I came away from the event feeling grateful for the opportunity of attending this incredible and historic craft market of such high calibre," writes O'Grady.
Artisans from across Canada, but primarily Quebec, took part in the eleven-day market. There were 400 booths that featured work of every craft discipline. I was very pleased see the comradery between artists at the event. Many artists who had been going for decades mentioned how they actively work together in their various communities to promote the history and value of traditional craft-making that has been passed down over generations.
The attendees had a deep appreciation for one of a kind fine craft, as well. Many visited the SCC booth a few times over the course of the Salon. They sometimes came back to say how happy they were with their purchases and that they would be so thrilled to see us at SMAQ again in 2019.
View this post on Instagram
The Saskatchewan Craft Council booth was received so well in Montreal, in fact, that at certain points it felt like reuniting with a long lost relatives. One woman in particular that came to Sherri Hrycay's Sova Design portion of the booth was especially generous:
"I had the tiniest little lady come up to my booth," remembers Hrycay. "She reminded me if of my grandmother. She was enthralled with my hats and one in particular… We got to talking and she said that she had some vintage Swiss braid to make hats. Would I like to have it? Of course! Later that week she arrived with a bag as big as she was full of Millinery supplies, apologizing profusely that she didn't bring the other bag (too heavy). None the less she had walked for blocks in the freezing cold to the metro station, from the metro station to Bonaventure Place, up multiple flights of stairs to bring me this treasure with no expectations in return. I took a quick inventory of the bags and happily gave her the hat she had fallen in love with in return. She started crying and we embraced. I've never seen someone so happy to wear one of my hats!"
"Attending the show was a great way to introduce myself to the eastern market. I met many contacts for things other than stockists, as well. I would definitely come back to build on the contacts and friends I made.  Customers are hoping and expecting to see me next year."
View this post on Instagram
Another lovely moment was when customers of Mary Lynn Podiluk's bought a pair earrings entitled "Breath" in pink fading to amber:
"They were so very happy and said that they've never come across anyone who has the type of inspiration that I have," writes Podiluk. "The title of the pair of earrings, 'Breath', really spoke to them, because its Hebrew form, Ruach, has a wide range of interesting meanings, including wind and spirit. They departed with a lovely blessing and I feel as though they may become life-long collectors."
"Having the opportunity to attend the Salon des métiers d'art du Québec with the support and presence of the Saskatchewan Craft Council this past December was phenomenal. Through the warm reception I received, there's no doubt that the atmosphere and audience are a great fit for my wearable art jewellery. I'm happy to say that my work will be adorning many Montréalers now. In addition to good sales, this year's attendance presented some hopeful connections, such as the possibility to gain gallery representation in Montréal, and inquiries for one of a kind and custom pieces. Market-goers & purchasers regularly asked if they could expect me in 2019, commenting that they would love to continue seeing my work at this most-anticipated arts and crafts show of the year. I appreciate the support of the Saskatchewan Craft Council & Creative Saskatchewan in making this endeavour a possibility; this exposure to a new audience has already proven worthwhile and will continue to generate great opportunities."
View this post on Instagram