Submitted by: Vivian Orr, Communications and Publications
"bespoke" Furniture From 101 International Artist by E. Ashley Rooney
Merriam-Webster definition of BESPOKE
1 a : custom-made <a bespoke suit>
2 b : dealing in or producing custom-made articles
Such a simple word for a complex relationship built on trust between client and artist/designer/maker, which can result in stunning and deeply satisfying pieces.
This large format, 200 page book features artists from across the United States and a chapter on international artists including two Canadians.
I freely admit I love Asian furniture. Asian furniture with a contemporary twist makes me even happier.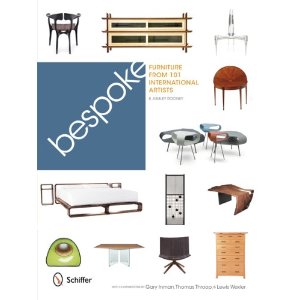 I want to meet Yoko Zeltserman-Miyaji. Born in Osaka, with an MA from Kyoto City University of Art, she moved to America in 2004. Her whimsical and elegant "Butsudan I ro ha" is part of a series melding Butsudan, roadside shrines, and anime! The words I would use to describe the piece are graceful, playful, colourful and elegant.
American furniture maker John Reed Fox mentions a quote from Soetsu Yanagi which has been his guide for over three decades of making:
Beyond all question of old or new, the human hand is ever-present tool of human feeling … Young people nowadays judge according to whether a piece is new or old, but more important is whether it is true or false.
I adore his "Tall Tansu Dresser". I feel it represents his melding of East and West, his striving for truth in his art and his passion for his work.
The "Brushstrokes Table" by Ken and Julie Girardini is a one-of-a-kind console table with a steel base consisting of "brushstrokes" of steel grasses rising from a "lake". It interprets the simplicity of a Chinese ink brush painting, capturing the movement of grasses in metal.
I don't want to mislead you, this book has much more to offer beyond Asian influenced furniture.
Peter Handler has two pieces that will make you smile. His "Caruso Chair" and "Casablanca Chaise" look like they will start frolicking around the room on their cute tapered legs. They have this feeling of "animation" rather like the yellow taxi cab in Who Killed Roger Rabbit. The pieces look that lively.
Then there is the beautifully graphic "Artichoke Table" a collaboration between maker David Rasmussen and artist Scott Harris. You feel like taking a giant spoon to the centre of it.
Jane Hall and Peter Wehrspann are both from Toronto. Jane's forte is colour, texture and pattern. Peter's time in Japan, Switzerland and Denmark give his aesthetic a light, spare, linear feel.
Lots of colour photographs, short but in-depth statements from each artist, and a wide range of styles and mediums make "bespoke" a fun read and a great piece of eye candy.
Available through the Saskatoon Public Library, Fine Arts Collection.
Published by Schiffer Publishing Ltd. in 2012.
ISBN: 978-0-7643-4226-4