Submitted by: Leah Bruce, Fine Arts Coordinator, Saskatoon Public Library
Strange Material: Storytelling through Textiles by Leanne Prain
746 PRAI (Frances Morrison Central Library)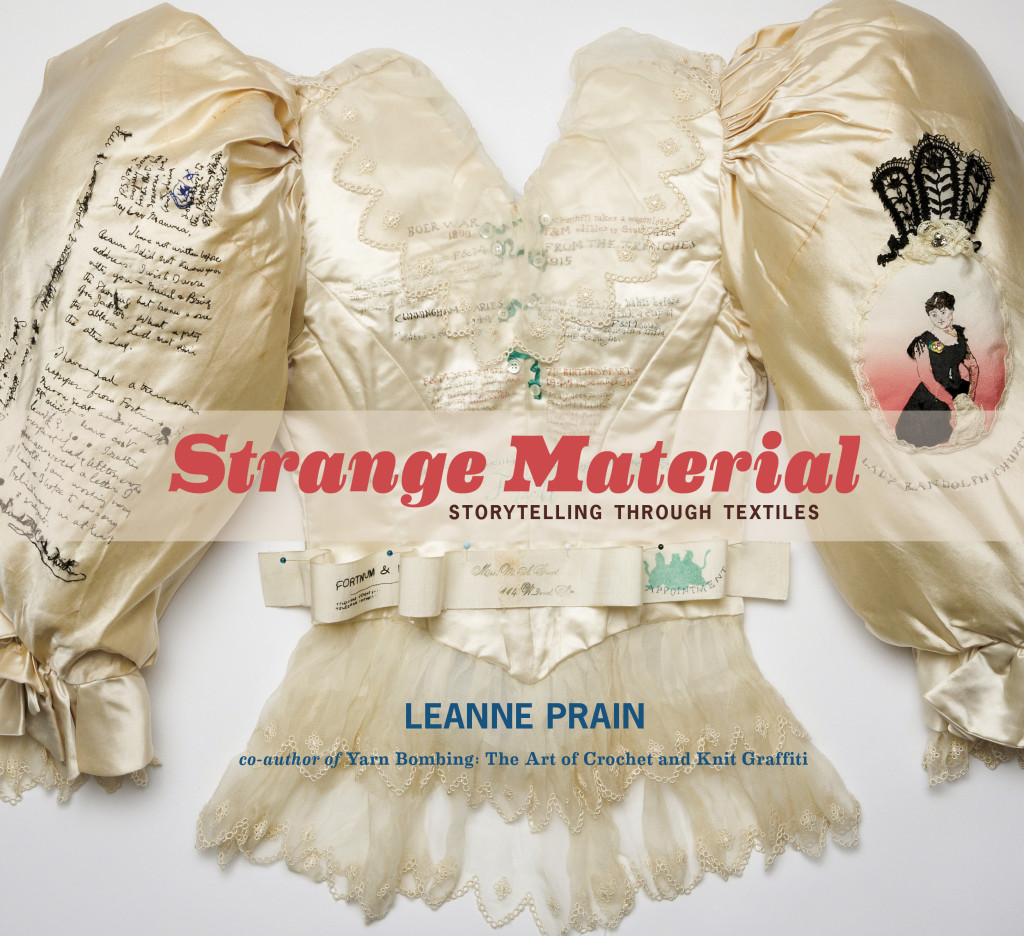 As I am writing this review, I have The Voice on in the background. It is blind auditions. The singer gets up and sings to the backs of the judges chairs. The singer has to have a strong and unique voice, and to be able to tell a story in a matter of moments, hoping to encourage a judge to push their button and turn their chair around. Strange Material: Storytelling through Textiles is kind of like The Voice. Each chapter is a new pitch, filled with unique stories and projects. And just like how the judges on The Voice provide constructive criticism, throughout this book are helpful hints to propel you forward in your creative projects.
As an Art History graduate, I understand how stories and information can be shared through art. And this book goes further by showing an under-studied area of art – that of textiles. The artists and projects covered in this book are extremely varied – playing on visual cues in our society to integrating textual elements into the textile project.
There are 10 chapters in this book:
Chapter 1: Making Meaning
Chapter 2: The Stories We Wear
Chapter 3: Poetic Textiles
Chapter 4: Textiles of Protest, Politics, and Power
Chapter 5: The Fabric of Remembrance
Chapter 6: Illustrative Storytelling
Chapter 7: Fictional Characters
Chapter 8: Humorous Textiles
Chapter 9: Technology and New Methods of Storytelling
Chapter 10: Community Textiles Through Storytelling
Within each chapter are interviews with artists. What I really appreciate is that there is a good representation of Canadian artists interviewed here. The prompts are worth working through – like the one about the button jar! And the projects found with most chapters are well laid out. Each project has a Tools & Materials list, skills needed, a description of the project, accompanying photos to show what you can aim for in the end, and very detailed step-by-step instructions. Overall, I believe this book would be useful for beginning and experienced artists.
Although I haven't done that many textile projects, this book has inspired me to break out my embroidery needles again and get creative!