Submitted by: Amanda Bosiak, Member Services
The CARFAC Saskatchewan Mentorship Program is the only program of its kind in Saskatchewan. Quite simply, the program partners experienced artists with new, emerging or mid-career artists. The goal of the program is to help build the skills and knowledge required for an artist to make art their full-time career. Post-secondary arts programs and art workshops, residencies and other educational opportunities for opportunities for artists tend to focus on the making of art, but not on the making of an artist.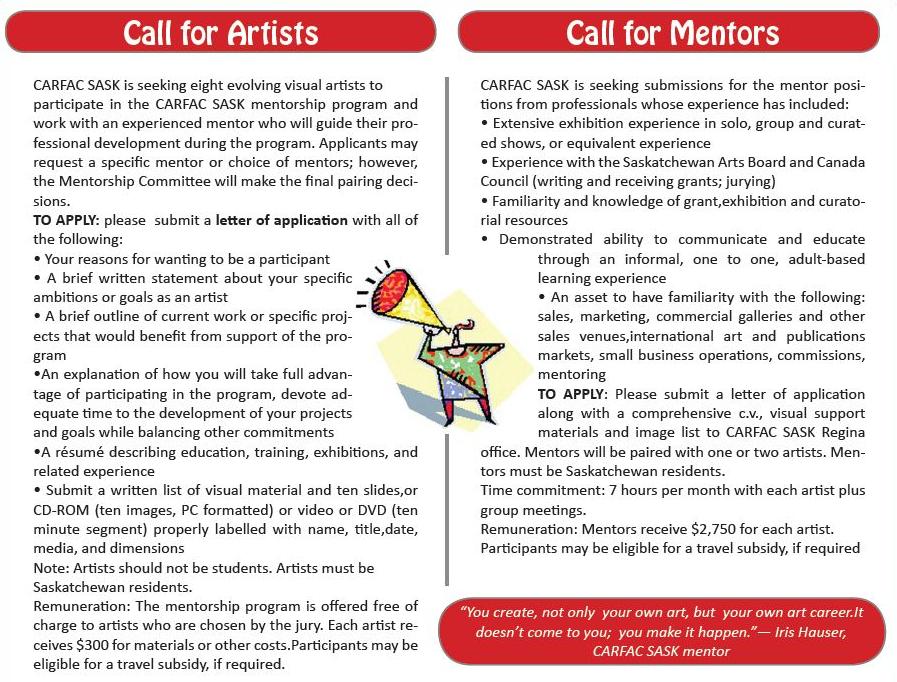 The CARFAC Saskatchewan Mentorship Program at a glance
I won't go into a detailed description of the program, because CARFAC already does a very good job of explaining what it's all about. It is an excellent program, for both the mentors and mentees. Instead, I'd like to go over some things about the program that you may not know.
You can apply as an individual – either as a mentor or mentee – and CARFAC will do the matching for you. You CAN apply together as mentor/mentee and CARFAC will honour that match. Being "partnerless" is not an obstacle to applying.
There is no application form – You submit a Letter of Application and the deadline for 2013 is JUNE 17 (a little over a week and a half from now!)
You are matched based on the skills you can offer/want to learn rather than by medium. For example; you are a fibre artist and want to work on the conceptual approach to your work, and your art focuses on environmental sustainability, the best match for you may not be another fibre artist. Rather, you could be partnered with a photographer with a history of environmentally conscious body of work.
You and your match meet before the program goes into full swing. If you feel for whatever reason that it isn't the right match, CARFAC will re-match you.
The program is Mentee driven – meaning that the program is meant to meet the needs of the student. This also means that successful Mentee applicants are those that have a very clear idea of what they want to learn, and are demonstrably committed to a career in art.
Travel money is available to both the Mentor and the Mentee for group and regional meetings, as well as meeting with each other if the matched pair live in different communities. This is available above and beyond the core funding to both the Mentor and Mentee.
The program lasts for 10 months and requires a minimum of 7 hours a month for both the Mentor and Mentee to meet (primarily face to face, but also includes Skype or video conference, phone and email). In addition, there are 3 province wide group meetings with all Mentor/Mentee pairs. These include workshops and other professional building activities. Another 2 regional meetings (North Sask and South Sask) take place for things such as group critiques and studio visits.
CARFAC follows up with the Mentees three years after their participation in the program to help keep track of both the program's success and the participants success!
Professional art practices and knowledge of how to become self-sustaining as an artist are not the kind of things taught in a classroom. The CARFAC Mentorship Program is one of the most comprehensive mentorship programs of its kind. (CARFAC Saskatchewan actually mentored with other mentorship programs across Canada during its development!) An incredible number of SCC members have participated in the program over the past 10 years, including June Jacobs, Ken Wilkinson, Cindy Obuck, Rowan Pantel, Anita Rocamora, Paul La Pointe and many others.
Have you participated in the CARFAC Saskatchewan Mentorship Program (or any mentorship program)? How did it help you?