Written by: Melody Armstrong, SCC juried Professional Craftsperson
March 8 to March 16, 2019
Attending the 2019 CollaboratioNZ with my partner Terry Johnston was an amazing experience full of inspiration, connection, and being immersed in creativity.  I connected with a lot of new artists and got reacquainted with others who were from New Zealand, Europe, Canada, Hawaii, and the United States. There were about 70 international artists in total, working together in the mediums of metal, wood, glass, stone, fibre, paint, print, and jewellery, collaborating and discovering new and interesting ways of approaching these mediums.
After an eight hour bus ride and a half hour shuttle ride, Terry and I arrived at the camp, just in time for the opening ceremony in traditional Maori fashion with singing and speeches. We all went around in a circle introducing ourselves to each other through the hongi — performed by two people pressing their noses together, at the same time, the touching of foreheads followed by a handshake.
In the hongi, the ha (breath of life) is exchanged in a symbolic show of unity. Through the exchange of this greeting, one is no longer considered manuhiri — a visitor — but rather tangata whenua — one of the people of the land.  The tradition of sharing the breath of life is considered to have come directly from the Gods.
Based in Whangarei Northland, CollaboratioNZ is a biennial week-long art event held at Mcgregors Bay, Whangarei Heads at the Mt. Manaia Baptist Camp. A beautiful setting under the mighty Mt. Manaia and in front of the tranquil beachfront of the bay. A sister event to Saskatchewan's Emma International Artist Collaboration, CollaboratioNZ was set-up in 1998 to provide a biennial week-long event with a venue, accommodation, catering, tools, and raw materials for the collaboration of artists in order to create world class art for public exhibition and auction, and to raise public awareness for the betterment of art in New Zealand.
Everyone was super friendly and welcoming and the organizers Trish Clarke, Carlie Blanchette, and Steve Haywood were amazing. We had a Public Open Day mid week to allow the public to talk to the artists and to view the works in progress. After six days of collaborating we made over 300 pieces of artwork that was then professionally photographed. All the pieces were packed up and moved to Forum North Whangarei for the Collaborationz No Reserve Art Auction. The auction raised $67,000, with proceeds going towards funding the next collaboration in 2021.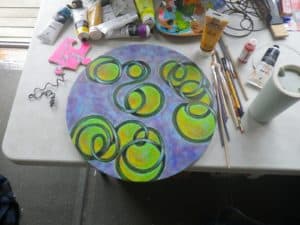 My objective at this event was to be experimental and to get into the creative zone, not focusing on the final outcomes, which is a different approach to my own studio practice. One of the projects while at this event involved using old rusty bed springs from the scrap pile, and stretching these apart and using the lines they created as my starting points. I traced these onto cut out pieces of wood that I pre-gessoed and had already painted with a fluorescent base coat, and then I proceeded to paint in an abstract manner. Once the paintings were complete another artist attached these bed springs elevated above the surface by a couple inches. This gave a sculptural three-dimensional quality to the paintings and the light source cast a shadow of lines on the painting to mimic the painted shapes.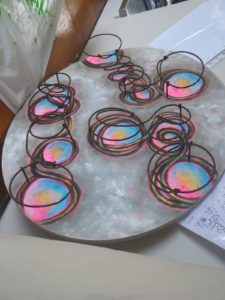 I ended up combining metal and painting and now have a great idea for a new body of work that combines these two elements. My takeaway from these two works I completed in this manner, combined with the lush beautiful flora and fauna, have inspired me to start on a new body of work. Instead of using the bed springs as my starting points, I will use shapes and lines from the hundreds of photos I took of New Zealand plant life. I will then paint in an abstract manner, following this with manipulated wire and oxidized metal shapes mimicking the shapes I used in the painting to begin with, and affix these above the surface to create three-dimensional paintings. On some select shapes I will incorporate a jewel or some aspect of jewellery.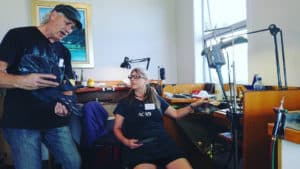 Before I arrived in New Zealand, I did not know what form the influences of this event would take, but I am now excited and am looking forward to exploring this new idea and working on my new artistic interpretation of these two combined mediums, paint and metal. Transferring my experiences from CollaboratioNZ 2019 and focusing on achieving a new body of work, I will set aside space in my studio to devote time on processing what I have discovered and formulating these new ideas, creating an exhilarating and innovative body of work directly related to this endeavour.
I would like to thank the Saskatchewan Arts Board for their support in helping me participate in this wonderful event!
I would also like to thank the CollaboratioNZ Trust for providing me with an International Artist Scholarship — making this experience possible!
It was a pleasure working side by side with leading artists from New Zealand and across the globe, networking, sharing knowledge of materials and techniques, and creating extraordinary artworks at the biennial CollaboratioNZ  2019.