Submitted by: Stephanie Canning, Education and Exhibitions Coordinator
While in Scottsdale, AZ in March I had the incredible opportunity to go on a tour at Taliesin West, American architect Frank Lloyd Wright's winter home and studio. The plot for Taliesin West was purchased in 1937 with the commission Mr. Wright earned from the design of Fallingwater house in rural Pennsylvania. Upon arriving, I was struck with how well Taliesin West fit in with the landscape. The walls are constructed with desert rocks and concrete and the entire structure is situated low along the base of the foothills of the McDowell Mountains.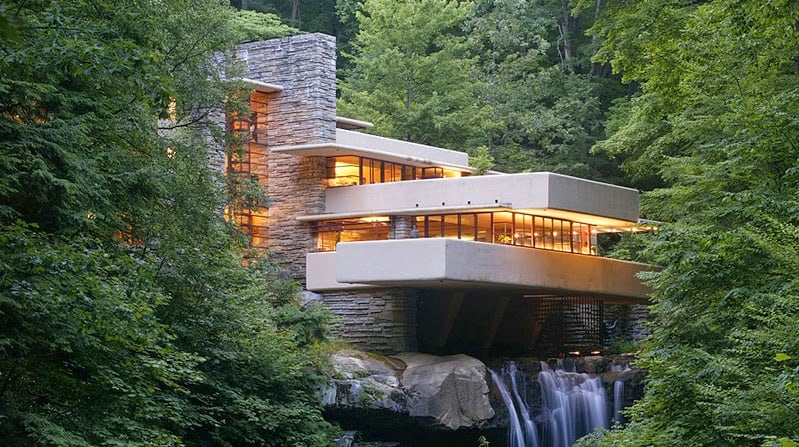 Frank Lloyd Wright's Fallingwater House (http://www.fallingwater.org/)
I went on the 90 minute Insights Tour that takes you through Frank Lloyd Wright's office, front gardens, cabaret theatre, music pavilion and into the Wrights' living quarters, including the Taliesin West Garden Room and their personal bedrooms.
Entering into the rooms at Taliesin West is an unusual experience; Frank Lloyd Wright designed the doorways of his structures to be small and narrow, as a way to discourage people from lingering in the entryway and therefore coming into the spaces quickly. As a relatively short person, a cramped doorway is something I rarely experience.
Throughout the tour it became apparent that Frank Lloyd Wright was an uncompromising designer. For example, the origami chair designed by Frank Lloyd Wright that I sat in the Garden Room was very aesthetically pleasing, but very uncomfortable.
Every aspect of Taliesin West was thought out and carefully crafted; everything has a place and a reason. At first, the multiple pools and fountains on the property seem out of place in the desert setting. However, given that when Taliesin West was built it was much further away from Scottsdale's emergency services, the pools serve as an emergency source of water in the event of a fire. Something that would have been on the forefront of Frank Lloyd Wright's mind, as Taliesin East (his summer home and studio in Wisconsin) was set on fire at the hands of a disgruntled employee.

Frank Lloyd Wright lived at Taliesin West until his death in 1959. Today Taliesin West is home to the Frank Lloyd Wright School of Architecture and the Frank Lloyd Wright Foundation and is a National Historic Landmark. If you ever find yourself in Scottsdale, Arizona take the time to go on a tour at Taliesin West, it is well worth it.

For more information about Frank Lloyd Wright and Taliesin West visit http://www.franklloydwright.org/