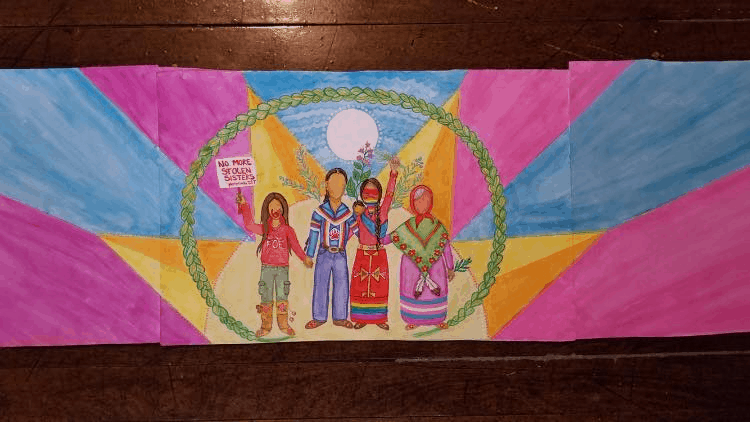 For the past five years, young Indigenous women in Saskatoon have been challenging gender-based violence in their community. They have been filming, photographing, writing, and now painting about their realities as part of a large international research project, Networks for Change. This research project connects Indigenous girls across Canada and South Africa using the arts to reclaim culture and challenge violence.
The original cohort of girls, who won the national Indspire award for their efforts, have welcomed a new generation of younger sisters into their circle. The older girls have been mentoring the younger ones on how to speak back to violence and create Indigenous space in Saskatoon. Young Indigenous Women's Utopia (YIWU) stresses that self-love and pride are the first steps in creating a safer world for Indigenous girls.
"This mural represents all Indigenous families and how we have survived years of genocide. It represents that we are still here fighting to be heard, to be seen, to be celebrated. Our girls group wanted to send a positive message thru our mural in the community to represent our group, our people, our families, and our women.  We wanted the mural to be a message, a message of our resistance as Matriarchs to gender based violence.  – Gabby Daniels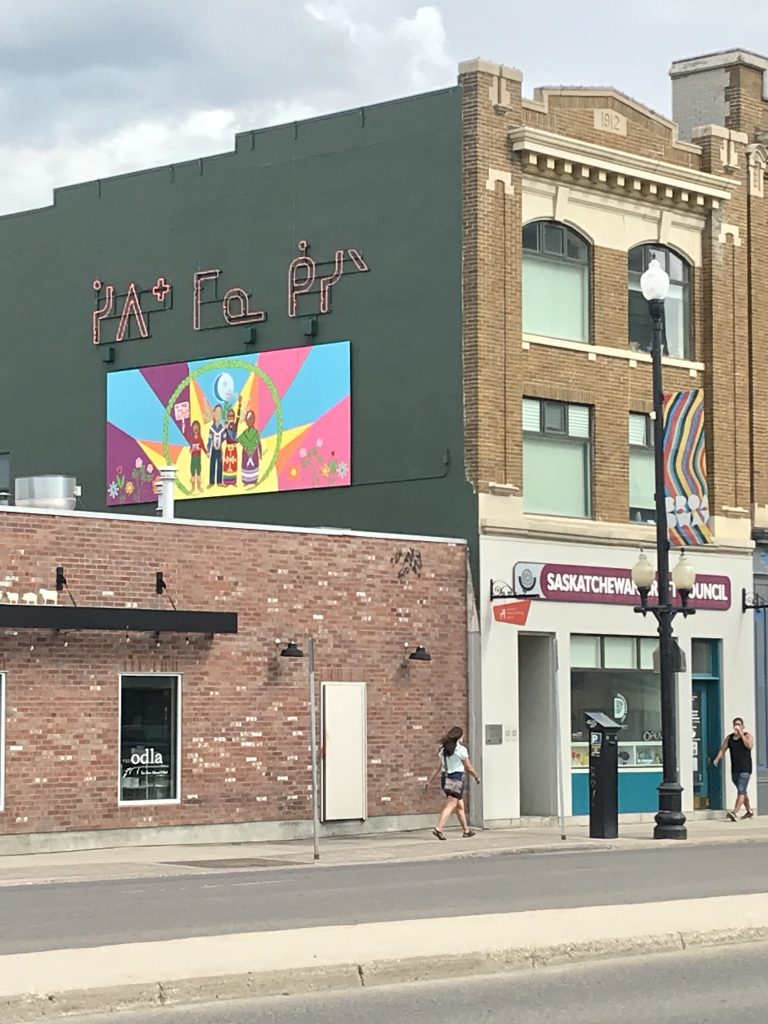 Every Saturday in June, both generations of the Young Indigenous Women's Utopia (YIWU) girls' group have been gathering at Saskatoon Community Youth Arts Programming (SCYAP) to bring a mural to life. With support from aunties and community leaders, and with guidance from local mural maker and Metis artist Michelle Pritchard, they are drawing the future that they want to see. Titled "Creator Save The Matriarch," the mural is 8 feet tall and 20 feet wide. It is painted on 5 aluminum composite boards that have been installed above the Saskatchewan Craft Council in the Broadway BID and will be celebrated at a community launch on June 27th from 4 to 7 pm. The launch will honor the young artists and their work. All are invited to attend.
This mural depicts a strong intergenerational family unit connected by ceremony at dawn. It evokes medicine wheel teachings. Because YIWU is a youth-lead project, a braid of sweetgrass (youth medicine) is tying this community together. Many of the figures are wearing traditional garb embedded with symbolism. The matriarch, holding sage, is wearing a ribbon skirt featuring a rainbow flag to signal pride and LGBTQ2 allyship. Her fierce stance and blindfold evoke notions of justice (which is blind) and liberty! The baby that she wears is connected to blossoming tobacco. The kookum (grandmother) is holding cedar. Her ribbon skirt features the trans flag and two eagle feathers to show her support for 2-spirit people. The uncle's outfit features the strength of the bear claw, with a sash bandana in his pocket, and the colors of the medicine wheel. The youth's sweater is emblazoned with the acronym FOE – which stands for "Family Over Everything." She stands in protest and demands a new future free of stolen sisters. The women all stand strong and wear the powerful color red. Together they resist and insist on a safer future that celebrates Indigenous girls' resilience, diversity, strength, and culture.