Submitted by: Susan Marles, SCC Member and Fibre Artist
Introduction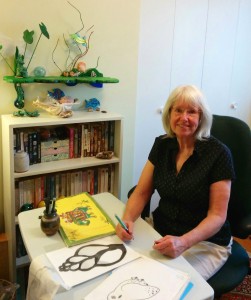 I gravitated to textiles from a natural fibres expertise, first learning hand-spinning and -weaving with raw fleece. Embellishments with found objects such as dried lichens, plant materials and tiny seashells added a 3-D texture to my wall hangings. I have since embraced new techniques and skills to develop my design repertoire. Machine sewing and quilting replaced the earlier hand-woven and hand-stitched designs, with free-motion stitchery techniques now enlivening the wall hangings.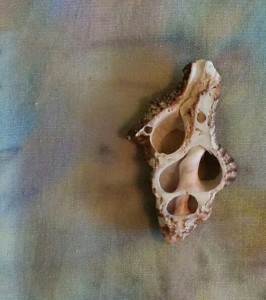 Found objects are frequently modified to discover nature's configurations that can be replicated in textile patterns and mixed-media work. As part of this new direction, managing a diamond wheel with a rotary cutter and seashells, for example, opened up an inspirational approach to quilted appliqués. I wanted to really see for myself nature's Fibonacci sequence in action, so I cut several sea shells apart. I'll eventually use these shells in a mixed media type of wall hanging.
A peek at my textile design and development process
Each piece of textile artwork is inspired by natural events, vistas, or a mental image conjured from reading novels and travelogues. Accordingly, natural events, an awesome landscape, enchanting buildings or a biographer's story can inspire my work.
Example 1: "WILDFIRE" (2015), inspired by natural events
Western Canada experienced catastrophic forest fires in 2015, particularly in our northern communities. News and televised images influenced my choice of material and subject during that summer's artwork. Generally, crimson, gold, orange and yellow do not dominate my textile work. 'Wildfire' inspired a departure from my traditional palette of muted greens and brown, blues and purple.
Although Wildfire is one of my larger wall hangings (35.5" x 28.5"), fewer embellishments and intricate strips of fabric were needed: the printed textile design in these Japanese textiles contributed a suitable amount of detail to the subject of fire and of fire-reflected water.
The appliquéd cranes, cut from another Japanese textile, portrayed fleeing wildlife. Stitchery and quilting in subtle colour-matching threads hint at heat-waves and water movement. Romney sheep fleece represented the ethereal quality of smoke. The freedom of the loosely attached locks of wool adds a kinetic feel of uncontrolled burning.
Media: cotton textiles; metallic and cotton threads; embellishments: wool fleece, mixed-fibre yarn
Example 2: "BYZANTIUM" (2012), inspired by travels in Cyprus
This Near Eastern island has a history of civilization going back more than 4,000 years. The landscape is a dry Mediterranean terrain that features beautiful sea shores, mountains high enough to retain snow and buildings that reflect pre-Phoenician dwellers, Greek and Roman empires, and both the Christian and Ottoman eras.
Consequently, public buildings reflect architecture from pre-Roman design, through Muslim and Christian influences. Cypriot buildings are an enchanting meld of European, Near and Far Eastern influences. Yet there is such great harmony in this fusion, that one wishes the politics of the island would embrace the same philosophy.
Media: cotton textiles; metallic and cotton threads; embellishments: beads, mixed-fibre yarn.