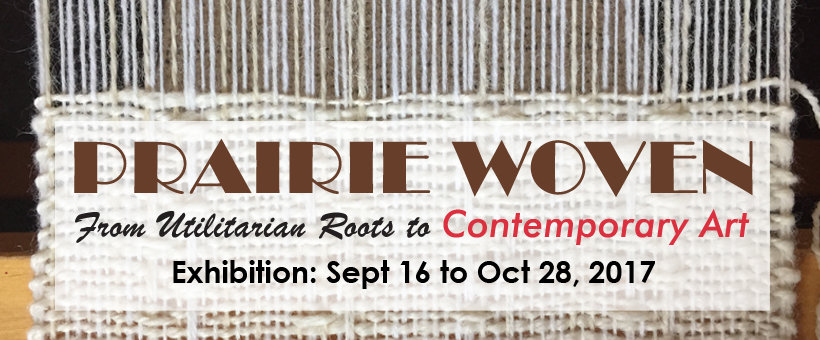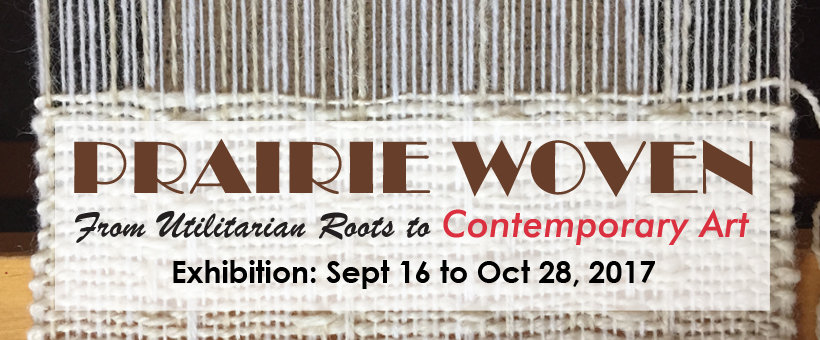 The information in the blog post below is taken from didactic panels appearing in the exhibition "Prairie Woven: From Utilitarian Roots to Contemporary Art," which will be on display at the Saskatchewan Craft Council Gallery until October 28, 2017. The gallery is located at 813 Broadway Avenue in Saskatoon, SK. Stop by for a visit!
---
The craft of weaving is thousands of years old. Every civilization has unique textiles and fabric. At birth we are received in a blanket and at death some of us are wrapped in a shroud. At certain stages of our life we will wear special garments. Often we take for granted the labour and process involved in making these special yet everyday objects. Weaving is a time consuming and technical process. It can take years to acquire the necessary skills to make good cloth, beautiful tapestries, and functional pieces. Saskatchewan represents a vibrant weaving community of men and women who carry on this traditional practice. The practice and teaching of weaving and spinning is continued today by organizations such as the Saskatoon Spinners and Weavers Guild, the Prairie Wool Weavers Guild, and their members.
Oscar Bériau was a significant force in weaving in Canada during the 1930s and 1940s. The Searle Grain Company, directed by Augustus Searle, wanted to improve the life of their farmers during the Depression and war years. With Bériau's help, the Searle Grain Company program revived weaving throughout the Prairies. The program provided education, resources, community, and a measure of independence for isolated Prairie women.
Many of the textiles in this exhibition illustrate the weaving drafts of Bériau's book, "HomeWeaving," which was used by the students of the Searle Grain Weaving program. Some of the pieces featured in this exhibition are inspired contemporary pieces, which extend past composition and structure and highlight the unique approach and identity of each artist.
This exhibition would not have been possible without the assistance and drive of Shelley Hamilton, President of the Saskatchewan Weavers and Spinners. The SCC and Shelley Hamilton would like to acknowledge the Saskatchewan Arts Board; the Government of Canada; Saskatchewan Spinners and Weavers; The Western Development Museum; SCC Summer Student Ashley Britz; Jean-Paul Picard and the family of Oscar Bériau; and the City of Saskatoon.
And finally, the SCC thanks Creative Saskatchewan for its investment in the development and promotion of Saskatchewan's Fine Craft sector. Our artists, collectors, and visitors to this exhibition are grateful for Creative Saskatchewan's sustaining support.
~ Stephanie Canning and Maia Stark, Exhibitions and Education Coordinators
Legacy
Algerta Armstrong was a student of the Searle Grain Weaving program. Her daughter, Merle Bocking, learned to weave from her and was one of the original founding members of the Saskatoon Spinners and Weavers Guild, a group celebrating their fortieth anniversary this year. Merle lived a long and productive life and died at 91 in 2016. She was still weaving in the last year of her life. Merle donated her mother's Searle Grain Weaving program notes and samples to the Western Development Museum and in turn, they are lending those artifacts for this exhibition. Her loom and equipment was donated to the Saskatoon Spinners and Weavers Guild by her family and it is her loom that will be used for the demonstrations accompanying this exhibition. Merle would have been pleased and proud to be part of this show. We miss her.
In a small way, our guild continues with the tradition of the Searle Grain Weaving program—we have our "weaving circle," give support, and motivate each other.
~ Shelley Hamilton, President, Saskatoon Spinners and Weavers Guild
History
The Searle Grain Company operated grain elevators across the Prairie provinces from the 1920 – 1960s. Augustus Searle, chairman of the Searle Grain Company, felt a responsibility to improve the quality of life for settler farm families during and after the Depression and War years. The "Dirty Thirties" on the Prairies led to losses of jobs, savings, and significantly worsened the state of farm families. Though Canadians everywhere suffered economic hardship, things were significantly worse on the prairies due to years of drought, plagues of grasshoppers, and hail storms. Western farmers needed to be more self-sufficient in both farming and surviving without reliance on purchased goods. Searle Grain's research director, Major Harry Strange, met Oscar Bériau, Québec Minister of Agriculture, during a visit and pitched the idea of using Bériau's Québec weaving program in the Prairies to improve the life of farming families. Searle enthusiastically agreed to Strange and Bériau's proposal, and the Searle Grain Weaving Program began. The program, unfortunately, came to a halt in the early 1940s due to the imposition of gas rationing, as participants could not drive to courses and meetings.
Renaissance Man
Author, advisor, chemist, and inventor, Oscar Bériau wrote texts on natural dyeing and weaving, as well as designed a loom that could be used in the home (previous looms were large and often kept in barns!). Bériau founded the Provincial School of Handicrafts of Québec in 1930. Several thousands of students went through this program. In 1935, he was awarded the Royal Silver Jubilee Medal from King George V in recognition of his work in leading the revival of handicrafts in Canada. Bériau began consultation with the Searle Grain Weaving Program around this time and brought his knowledge to the Prairies. Oscar Bériau helped to improve the Canadian weaving industry, consulted on improving educational techniques, and encouraged the teaching of the craft to anyone who wanted to learn. He died in 1947 at the age of 64.
The Saskatchewan Craft Council would like to thank Oscar Bériau's family for their assistance and permission to display the photographs in this exhibition.
The Program
Bériau's daughter, Renee Bériau, and the Searle Grain Company worked together to recruit four farm women to teach the weaving courses.
These women were:
Helen Boiley from La Broquerie, Manitoba, French speaking;
Germaine Chaput from St.Adolphe, Manitoba, French speaking;
Laura Muirhead from Carberry, Manitoba, Swedish speaking;
and Ann Yamischak from Winnipeg, Manitoba, Ukrainian and Russian speaking.
Renee, an accomplished weaver, trained them to be instructors. After their training, each woman went out to the community in which their language would best serve to teach the courses.
The Searle Grain Weaving program allowed nearly eight-hundred farmwives to be less dependent on purchased goods as their new skill would produce their own clothing, bedspreads, tablecloths, towels, scarves, etc. Women from any socioeconomic standing could participate and benefit from the courses, as the training and materials for the program were offered free of charge. The courses taught six to sixteen women at once. Women began by learning how to weave basic designs in cotton (these designs were planned by Oscar Bériau) and then progressed, over six weeks, to linens and wools as their skills increased. After the courses were completed they were able to buy looms and supplies from the Searle Grain Company at wholesale prices. Participants were also able to pay for their loom with small monthly payments at no interest.
The graduates of the program were asked by the Searle Grain Company to pass on their knowledge to women who were unable to take the courses. They were asked to "form a permanent weaving circle in their community and to … teach their neighbours who desire to learn weaving." The implementation of weaving circles throughout the provinces led to farmwives forming a community beyond their family. With the implementation of these weaving circles farm women were less isolated and shared their skills with others.
Women and Craft
Women have been historically excluded from art and art history due to the Institution's primary focus on "male art" (sculpture, painting, and architecture). Their gender, the conditions of their place of manufacture (working in and from the home), and the functional nature of their work determined where women fit in the hierarchy of arts. Both women and Craft became invisible. This connection, between feminism and Craft, affects many contemporary artists' work and connects the value of function and art in society. For many people, Craft still is not held in esteem for its technique and form. There was very little training available for even the so-called lower value handicrafts. The Searle Grain Weaving program provided the missing education, resources, and community. This important program contributed significantly to the history of craft in the Prairie provinces, as well as providing income and self-sufficiency to poor households.
History and Reconciliation
The Searle Grain Weaving Program was open to Prairie farming women. There was not (as was found within our limited research capabilities) any deliberate inclusion of Indigenous or Métis women. As with all Canadian history it is important to respect the histories left out of the articles, books, and archives due to the landscape at that time and to address it in our present.
There is a strong weaving and Craft practice among the Indigenous and Métis peoples of Canada.
The ceinture fléchée ("an arrowed belt"), is a finger woven worsted wool sash. Weavers from Assomption, Quebec, first produced the original red sashes which were used by the Coureurs de Bois in the 18th century.  The sash has become an important symbol of cultural pride and identity for the Métis.
The sash traditionally served many functions as a belt, an emergency sewing kit, saddle blanket, etc.  This piece is shown as an example of an integral Prairie textile, serving both form and function. In recent times, the colours used in a sash can be meaningful according to each weaver. For example, a weaver may integrate a particular colour, or colours, associated with a cause such as the LGBTQ rainbow, or pink for the fight against breast cancer.
Thank you to the Gabriel Dumont Institute for their assistance in putting together this information.
Weaving 101
Weaving involves the use of two different types of yarn: a warp and a weft. The warp yarns are placed lengthwise on a loom, and serves as a sort of skeleton for the weaver. The weft is a single piece of yarn that is wound over and under the warp yarns, creating a woven piece of material. Weaving can produce a variety of different pieces, such as tapestries, clothing, tea towels, blankets, and bedsheets. Early versions of the loom can be seen in paintings more than 4000 years old, though not until the Industrial Revolution did the loom become mechanized and mass-producible. As Minister of Agriculture, Oscar Bériau asked Nilus Leclerc, master carpenter, to make a loom that could fit inside a typical home. Previously, looms were so large many were kept in barns. Leclerc Looms became standard for learning and experienced weavers.