Annemarie Buchmann-Gerber
September 21, 1947 – December 23, 2015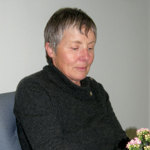 The exhibition of Annemarie's tapestry for the textile teacher's diploma in Switzerland led to an art career later in Canada. Margareet Van Walsem and George Glenn were the deciding influences during her early years in Prince Albert, Saskatchewan. They encouraged her to continue in her art making. Annemarie studied Fine Arts at the University of Saskatchewan, graduating with a BFA, magna cum laude.
Annemarie was a founding member of the Saskatchewan Craft Council in 1975 and served in various capacities on the SCC board over the years. She also served on the board of the Mendel Art Gallery in Saskatoon for eight years.
Annemarie participated in exhibitions and created mixed media artworks that are still appreciated by many. The basis of her art was textile/fibre materials and techniques, which she combined with a variety of fine art techniques. Her subject matters were generally feminist based and reflected contemporary issues.