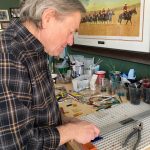 Eric came to glass work after 40 years as a lawyer, legislator and corporate executive. Although he spent a lot of time as a young person drawing and creating things of a structural nature, he had not pursued that interest for 40 years. Friends encouraged him to reengage his interest in form and representation by working with stained glass.
Eric was attracted to work in glass because of its inherent beauty and ability to interact with light and appear differently depending upon light, angle and other factors.
Working with a glass kiln adds another layer of fascination to the process, given having to anticipate how the kiln will take what is presented to it and contribute to the process, with both predictable and surprising results.
Being raised and living on the prairies gives an appreciation of their great vistas and broad horizons. Eric finds the combination of working with the qualities of light and of glass, the process of the kiln and the subject of wheatland vistas and their component angles and lines to provide an irresistible challenge. He tries to create landscapes in glass, as well as abstract pieces. His work is mainly presented as "pictures in glass."
Eric joined the Saskatoon Glassworkers Guild in 2018 and has found that group of people to be amazingly open and helpful. He looks forward to participating in their annual spring show in April 2019 and future years, as well as other group shows. He has a goal of having an exhibition of his work during the next year or so.
Memberships: