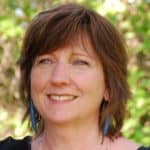 After a degree and career in interior design Jude studied jewellery making for 2 years. She is self-taught in polymer clay and enjoys the exciting colours, textures, and immediacy that are possible in this medium. Jude is drawn to polymer clay because of its strength, lightness and adaptable characteristics. It allows her to play with volume and three dimensional design, offering bold statement pieces that are very comfortable to wear.
"I make wearable art jewellery of polymer clay and silver. It is bold and expressive and hard to ignore! I enjoy blurring the lines between modern art and nature, and my pieces range from soft organic forms and colours to blunt geometric shapes and bright hues."
Polymer clay has captured her full attention and she's enchanted by how this industrial material can be transformed into natural looking pieces recalling the natural world. She creates her designs by sculpting, carving, texturizing and colouring the clay. She uses recycled silver for findings and earring wires. She sometimes accents her work with brass or bronze. She often creates hollow forms such as boxes, tubes, and pods; to further enhance the lightness of large pieces. She makes her own forms, textures and carved patterns.
CONTACT
Firefly Studio Inc
Gallery Representation:
Firefly Studio Showroom, Moose Jaw, SK