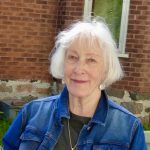 I have been a Saskatchewan Craft Council juried member since 2017 and a collector of fine craft for many years.  I am pleased to have my paintings displayed beside many forms of fine crafts.   
I maintain an independent practice in Saskatoon Saskatchewan.  I was raised in a large Ontario family and have family roots going back more than 100 years in Saskatchewan.  I am motivated to explore both of these parts of Canada and have exhibited paintings in private and public galleries and community venues.
I studied Art History at Carleton University in Ottawa and completed many art classes and other opportunities in Saskatchewan through U of S Extension Division, Emma Lake Kenderdine Campus, local and visiting art teachers and presenters. 
My first love as a painter is the countless possible processes of applying paint to a surface. I use a variety of techniques to hover between abstract and representational elements. The spectacular Saskatchewan forest and prairie are sources of inspiration as are the colour and rocks of the home of my Ontario family.  The seasonal beauty of my personal garden, and the visual richness of travel provide other muses for my work. 
I have been represented by commercial galleries: Collector's Choice in Saskatoon since 2020,  Saskatchewan Craft Council Boutique since 2018,  And Art Gallery in Davidson 2017-2020, Rouge Gallery Saskatoon 2006-2017, McIntyre Gallery Regina 2008-2012. I have exhibited in many solo and group shows in public and commercial galleries and in community venues. 
My full resume can be viewed at artistsincanada.com/slavin.
Gallery Representation:
SCC Fine Craft Boutique, Sasktoon, SK
Collector's Choice Gallery, Saskatoon, SK
Sask Network for Art Collecting, Regina, SK
Memberships:
CARFAC
Mann Art Gallery
Art Gallery of Regina
Humboldt & District Museum & Gallery