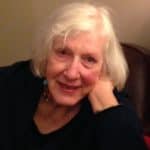 I maintain a studio practice in Saskatoon Saskatchewan where I have lived and worked for over half of my life. I studied Art History at Carleton University in Ottawa and have continued to look at art in galleries in many countries. I have family roots in Saskatchewan that extend more than 100 years which motivated me to visually explore this land.
I began to take art classes in Saskatoon in 1991 from Extension Division at the University of Saskatchewan and at Emma Lake Kenderdine Campus, and started seriously painting and and showing art. I have continued to paint and to engage in art workshops including the final five Artist Workshop sessions at Kenderdine Campus before it closed, and since then in Prince Albert and Regina.
Participating for several years in classes, residencies and the Artist Workshops at Emma Lake, I benefitted seeing the work and from the critique of guest artists which included: Elizabeth McIntosh, David Alexander, Kim Dorland, Monica Tapp, Lorna Russell, Wynona Mulcaster, Degen Lindner. The workshop participants were established artists from across Canada. In different ways I was influenced by all of these contacts: a substantive critique, a passing comment, my observation of their work, artist talks, a casual discussion.
Rouge Gallery in Saskatoon has carried my work since the gallery opened in 2006. McIntyre Gallery formerly of Regina carried my work from 2008 until they closed in 2012. I have been exhibiting work in Saskatchewan since 1995 in public and private galleries and in community venues. In 2013-14 one of my paintings was on tour with Sask Art's Prairie Reconstruction exhibition.  Sask Network for Art Collecting displays some work in Regina and through their online auctions.    I participate as well in local in community art shows.
My full resume can be viewed at www.artistsincanada.com/slavin
Gallery or Retail Representation:
Rouge Gallery
Sask Network for Art Collecting
Memberships:
CARFAC
Mann Art Gallery
Art Gallery of Regina
Humboldt & District Museum & Gallery