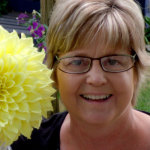 I was born and raised in Moose Jaw, Saskatchewan. As a small child I was introduced to the fascinating world of glass when my parents took me on a tour of a pop bottle plant. They also took me to a glass blower and, in those days, it was very rare to see a glass blower in our neck of the woods, and my addiction to glass was born.
In the late 70s, I took my first course in stained glass, but I always had an interest in fused glass and in 2005 I was able to take a class. Starting out with my mothers old pottery kiln, I began my learning curve in Kiln Formed Glass and have been melting memories ever since.
Kiln formed glass is processed by heating glass in a kiln to produce a desired result. The heated glass can take numerous forms, from flat fusing sheets of glass together to melting it into a mold and sagging existing sheets into or over a mold which is referred to as slumping.
Gallery Representation:
SCC Fine Craft Boutique
, Saskatoon, SK
Traditions Handcraft Gallery
, Regina, SK