Submitted by: Amanda Bosiak, Member Services
People attending the Cathedral Village Arts Festival in Regina last month might have noticed some strange and wonderful installations hugging otherwise normal trees on 13th Avenue.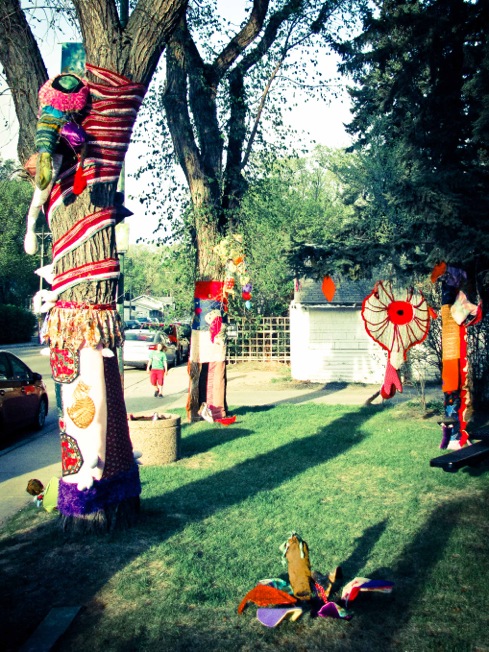 Sustainable Sculpture Installation in Regina, May 2013
This riot of fabric and colour was a project for the Sustainable Approaches to 3-Dimensional Form at the University of Regina. The class (Sustainable Sculpture for short) is taught by artist Tamara Rusnak, who also received her Masters in Fine Art at the U of R in 2010.
Rusnak is a painter and sculpture, and a staunch believer in being mindful of the products we use on a daily basis. While working on her undergraduate degree in painting at UBC, she realized that while many artists are inspired by the natural world, they tend to use manufactured products to create their works of art. She was no exception to that, and in becoming more conscious of her own consumer consumption in her practice, began to find ways to reduce her environmental imprint as an artist. This led to the use of salvaged materials in the place of canvas, and creating her own paint with natural pigments derived from plants and minerals. Rusnak says, "There's a real pleasure in knowing where your materials come from."
Upon returning to Saskatchewan, Rusnak began to take her interest in sustainable art to a new level, by exploring 3-dimensional approaches to her body of work. This led to Rusnak taking workshops with a number of SCC members, including felting from
June Jacobs
, basketry from
Morley Maier
, and fabric dying from
Anna Hergert
.
These additions to her artistic "tool kit" have not only added to her own artistic practice, but are skills she teaches to her students in the Sustainable Sculpture class. The CVAF project this past spring, introduced the students to some of these new skill sets, in addition to sewing and crocheting. The project had some simple guidelines:
– sculpture must be made from reused fabric, remnants or old clothing
– work must be colourful and engaging
– work must be non-representational (i.e. abstract)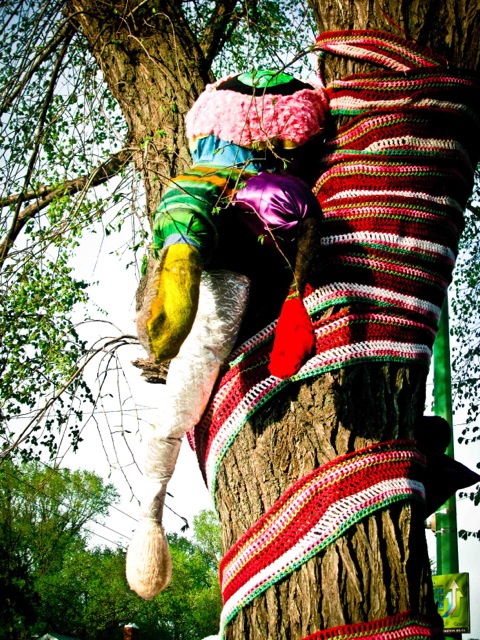 Participating students:
Bahareh Hosseini
Haley Gartner
Mickey Eberts
Nishi Kaur
Sonia Griffiths
Sonya Hosseini
Robin Cantham
Roya Hosseini
Victoria Flores
In addition to Rusnak's students, the project attracted artist and BFA student Jennifer Shelley-Keturakis (JenSK), whose own body of work revolves around fibre art, public art, and guerrilla art (such as
yarn-bombing
). JenSK has been involved with
numerous public fibre installation
s, including her own project,
The Giving Tree
, on the U of R campus a few years ago. Next weekend (July 6) in Saskatoon, JenSK will be leading a Yarn-Bombing workshop as part of
AKA Gallery + Artist Run Centre
's project
Street Meet
, Saskatoon's 1st Annual Street, Public and Graffiti Art Festival, July 5-7 in the
Riversdale
area (20th Street). The workshop will result in some serious yarn-bombing fun in the neighborhood surrounding AKA Gallery.
If it ends up anything like Rusnak's students' project, Riversdale will be looking absolutely fabulous next weekend!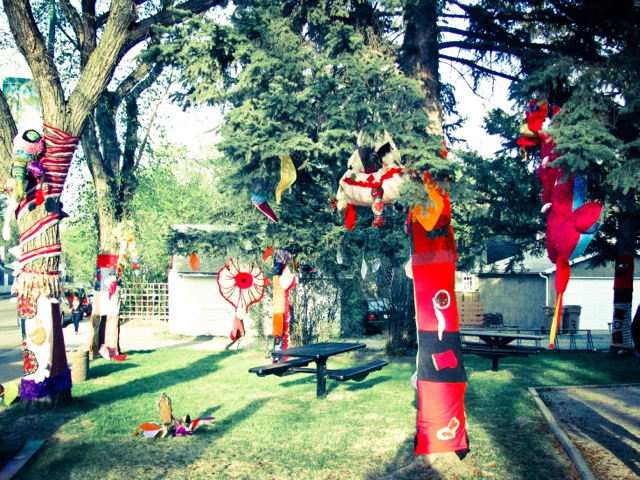 The work from Rusnak's Sustainable Sculpture class project will also join the many other public art projects taking place at Street Meet in Saskatoon. And Regina residents will have another chance to see it as well, in Victoria Park during the Regina Folk Festival, August long weekend.