Written by: Dawn Rogal, Gallery Assistant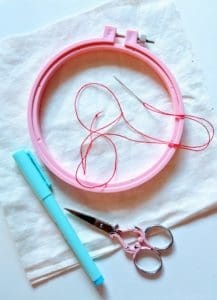 The dictionary defines embroidery as the art of working raised and ornamental designs in threads of silk, cotton, gold, silver, or other material, upon any woven fabric, leather, paper, etc., with a needle. The key components — thread, needle and a workable surface — are simple, but the types and styles of embroidery are countless. Wikipedia points out that basic techniques or stitches on surviving examples of the earliest embroidery remain the fundamental techniques of hand embroidery today.
(I emphasize hand embroidery for the purposes of this article. The introduction of automation for embroidery began during the industrial revolution and continues today with the use of computerized machine embroidery. Many fine artists work with machine embroidery or a combination of hand and machine. That's for another article!)
I've embroidered practically my whole life. I was taught basic stitches by my mom and turned to embellishing every piece of denim I could get my hands on. I've tried my hand at many techniques, from whitework to blackwork, cross stitch and needlepoint, stumpwork and cutwork. I find, though, that I am often drawn back to the simple lines that tell a story or draw a picture.
This year I've decided to challenge myself and celebrate Canada's 150th birthday by creating 52 quilt squares using linen fabric and an embroidery technique called redwork. The redwork technique came about because of the confluence of two developments, one in technique and the other in embroidery thread.
The Kensington stitch was first developed by the Royal School of Needlework for the 1885 World's Fair in Philadelphia. Similar to split stitch, it allowed the user to follow the outline of the design and worked especially well on curves. Around the same time, a colour fast red thread was introduced. The combination of red thread, Kensington stitch, and simple outline designs soon became known as redwork.
In chatting with Monika Kinner-Whalen — a Saskatchewan Craft Council professional craftsperson member and fibre artist — about my project she told me that the middle eastern origin of the dye led it to be called 'Turkish Red' and some people will refer to redwork as Turkey work (not be confused with turkey work, or Ghiordes Knot, which I guess could also be used in redwork, but I digress).
Common themes of redwork patterns were animals, birds, flowers, fruit, vegetables and people. Pre-printed fabric for individual quilt blocks were sold for a penny. Patterns from magazines such as Work Basket, McCall's Needle Crafts, Godey's Lady's Book, and The Ladies Home Journal could also be copied onto fabric. Other stitches, such as French knot, outline, stem, backstitch, and running stitch were also used. The simplicity of the redwork stitch and designs and the use of inexpensive materials made it an ideal way to teach embroidery to children.
As more colour fast dyes became available, more colours of threads were introduced and, in the 1870s, iron on transfers became available. The embroidery of tea towels, clothing and other households goods continued in popularity. In 2001, fine artist Jenny Hart ushered in a resurgence in the popularity of embroidery with the introduction of modern embroidery transfers and fun colors and styles of embroidery threads. Jenny's own hand embroidered art is found in collections internationally and, in 2012, one of her pieces became a part of the permanent collection of the Smithsonian American Art Museum.
The perception of fibre art, including embroidery, is shifting from craft to contemporary art. Today many fine artists use embroidery as their medium of choice. Embroidery is also commonly found in feminist art, as artists subvert "traditional" women's work to make powerful political statements.
Did you know that the Saskatchewan Craft Council has sixty-five fibre artists as members? Many of them, like Monika, produce work using a variety of hand and machine embroidery techniques.