Submitted by: Maia Stark & Leslie Potter, SCC Exhibitions & Education Coordinators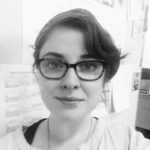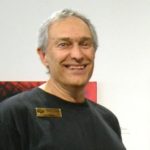 What do we love about the work we do at the SCC?
We love being able to work with artists and their artwork: it is a privilege to handle and display Fine Craft and to feel trusted by makers to represent them and champion their artistic practice.
What do we do?
We share the Exhibitions & Education Coordinator Position. Les works Monday-Wednesday, and Maia works Wednesday-Friday. Very soon, Stephanie Canning will be returning from her year-long Maternity Leave, and will be replacing Maia in this position (Stay tuned for a blog post from Maia reflecting on her past year at the SCC).
Much of the Exhibitions & Education Coordinator position deals with data and communication! We send dozens of emails a day, responding to dozens more. In the midst of communicating with the public, artists, curators, and other galleries, we work closely with the SCC's communication team, Vivian Orr and Sydney Luther (Editor and Communications Assistant).
Here's some of what we do: In the months approaching a new exhibition, we will send and receive contracts; get in touch with artists about the drop off of work; send communication work orders for  visual media; write press releases; approve invitations and posters; schedule gallery assistants for artist talks or reception shifts; arrange for exhibition tours; compile the show information into spreadsheets; requisition cheques for artist fees; edit artist statements or curator's statements; create a price list, a guestbook, and labels.
During show change (which we try to accomplish in only 4 days!), we take down the current exhibition, package all the work, ship the purchased works to their buyers, and/or arrange for the return of work to the artist. The following three days are spent cleaning the gallery (washing, filling, and repainting the walls as needed, as well as cleaning / repainting pedestals), unpacking new artwork, checking it off, inspecting for damage, and arranging it within the gallery. Sometimes we do this with an artist, especially if they have specific ideas in mind for their exhibition layout. Once artworks have their place, we light the exhibition, print and arrange the labels, guestbook, and price list, frame the statement, and install the vinyl signage.
A large part of this job is data accumulation: For example, for each exhibition we make a spreadsheet of contact information – artists' name, address, phone number, email, city, whether they collect GST, if they do, what that number is: this is the information we ask you to write into your contract! If information is missing, we follow up with emails and phone calls. We also make a spreadsheet called the List of Works. This document lists every piece in the exhibition: the title, artist, medium, technique, year made, value, and its sale availability. It is the Master List, and very important for the success of the exhibition. This document requires the most adjustment, as sometimes new information comes in or is changed and we must keep up with it and make sure to vigilantly edit for typos. We use this document for many other things: as a checklist for incoming works, to create documents for our archive, to create labels, price lists, etc. This position demands adherence to deadlines and the ability to prioritize and multitask.

Other Projects
The other week, we were working on a comprehensive report detailing upcoming exhibitions. Not only listing the dates and suggestions for artist talks, panels, noting "big wishes" to fund workshops or off-site projects, but also noting budget considerations, presenting alternatives if the funds can't be met, and accommodating for factors (such as an exhibition or reception that is likely to require more funding).
Along with these duties, we often have other projects which are to be accomplished: most recently, coordinating Saskatchewan Craft Council member's artwork to the Scottsdale exhibition. We write reports about new ideas, or to respond to attended events (panels/conferences), or after projects are completed (such as Dimensions).
The day-to-day of our job is varied but schedule-dependent; we are always preparing for the next exhibition!