What do I love about the work I do at the SCC?
Written by: Vivian Orr, Communications & Publications Coordinator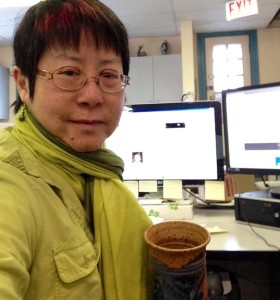 I want to say up front – I love my job! I love walking through the SCC gallery and seeing the exhibitions. I love browsing the Fine Craft Boutique. I am inspired by the work of our artists – their creativity, technical mastery and sense of beauty.
Sharing my love by encouraging the public to learn, explore, appreciate and purchase work by our artists is my daily goal at the SCC. I work towards that goal in very concrete ways:
Exhibitions
Six to eight weeks before an exhibition opens, I talk with my coworkers (Les Potter, Maia Stark and/or Stephanie Canning) about what exhibition artists have provided in the way of high quality imagery. A sharply focused photo of an exhibition piece which has been well lit and photographed against an uncluttered background works the best. I am always hoping for large (35-45 MB file size), high resolution JPG or TIFF files. They create the best quality when printing our 11" x 17" exhibition posters. Always keep in mind that it is easy for me to reduce the size of an image file, but trying to enlarge it results in pixilation and undesirable digital artifacts. This is one case where, in terms of size, bigger really is better.
Once I confirm the exhibition title, reception and artist talk dates and basic description, which will be used in the promotional materials, I like to design a wordmark: a typographic interpretation of the exhibition name. The wordmark helps tie together the various parts of our exhibition promotions and will frequently be seen gracing the wall of the gallery as a vinyl decal.
Next I design the invitation and poster. After those are approved and sent off to the printer, I start on digital promotional materials:
image for the SCC home page rotating gallery;
image for the SCC Facebook page;
image for the SCC members' e-newsletter SaskCreate; and
image for the SCC public e-newsletter Talking Craft.
The digital content is then sent to the SCC Communications Coordinator (Sydney Luther) for use in our various digital and social media streams.
About 7-14 days before an exhibition opens, SCC issues a news release that goes out to the media and other interested parties, the posters are distributed and (depending on the exhibition) a digital promotions package is sent out to the exhibition artists.
Once the exhibition has been installed, I will photograph individual pieces and/or groupings of works:
for the image gallery associated with each exhibition on the SCC website;
for SCC archival records; and
for social media promotions.
Have you ever noticed the right hand menu on the SCC website current and past exhibition pages? You will find exhibition images and videos dating back to 2006 archived on our site.
You will frequently catch me with camera in hand, snapping candid photos at exhibition receptions for the SCC website and social media.
SCC Fine Craft Markets
Communications work for SCC markets start almost a year in advance when, in late fall, we update event listings with Tourism Saskatchewan, Tourism Regina and Tourism Saskatoon. We enjoy a good working relationship with the tourism organizations and take advantage of promotional opportunities when appropriate.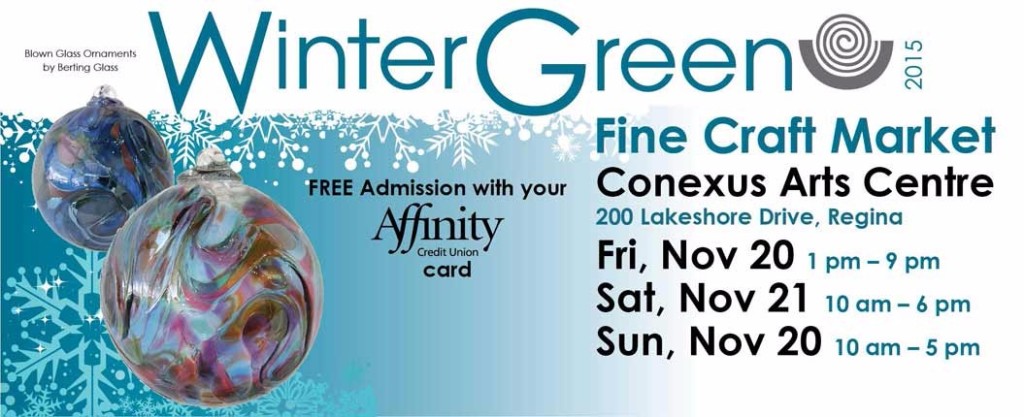 The market promotions timeline is:
6-8 months before a market, SCC Member Services (Ferron Olynyk) will ask me to create promotional ads for seasonal tourism publications;
3-4 months before, I design billboards;
1-2 months before, I design multiple newspaper ads, the market poster, the complimentary passes and coupons;
4-6 weeks before I design the market pamphlet that lists the exhibitors, their contact information and their booth location; and
1-3 weeks before, SCC sends out several media releases.
Digital promotional materials for markets are the same as exhibitions.
Other SCC Communications & Publications Projects
I frequently photograph pieces in the SCC Fine Craft Boutique for print promotion (artists' cards and posters), for online use (Facebook, Twitter, Instagram and Pinterest) and for Talking Craft. I cannot emphasize how important good photography is for effective promotion of Fine Craft. A (great) picture is worth a thousand words!
There are many regularly occurring and one-of-a-kind design projects at the SCC:
SCC annual reports
Dimensions catalogues
SOFA artists cards
Alberta and Toronto Gift Fair artists product catalogues
SCC information and fundraising materials
Recently, I laser cut stencils to use on our chalk sandwich boards which give our chalk boards an eye-catching look and professional consistency.
Partnering
I am always on the lookout for potential partnerships …
In 2013 I wrote the successful grant that launched the SCC Culture Days Hub. Working with Handmade House, Clay Studio Three Pottery and the SCC we offered free craft activities at the three Broadway district locations. In 2015 we added the Saskatchewan Printmakers Association to the Hub and continued to create an event that brings new people and a younger audience through all our doors. Culture Days participants now look forward to the SCC Hub and schedule it as part of their activities.
This is just a quick overview of what SCC Communications and Publications is doing to promote our artists and their work. We are very excited about 2016. There is potential for new partnerships! We hope to add more video content into the SCC communications mix. And we look forward to telling our artists' stories – your story – to a greater audience.