Submitted by: Maia Stark, SCC Gallery Assistant
In the Saskatchewan's Craft Council's current exhibit, Where River Meets Sky, visitors may notice an atypical amount of two-dimensional work: paintings.
While painting as a form of Fine Craft has been included in the SCC's list of craft media within the last decade, many heads are turned by the appearance of so many paintings in a Fine Craft gallery. Since 2004, the SCC Board defined Fine Craft as ". . . an artistic
endeavour
characterized by the creation, with skill and by hand, of three dimensional work that is rooted in, but may transform, transcend or maintain the traditions and materials of the utilitarian object." (
SCC website
). Though I mention this fact, my intention
isn't
to discuss the blurring of lines between "fine art" and "fine craft," or argue for the inclusion of painting in the category of fine craft. My intention is to contextualize the tensions between categories of art that are considered "high" and "low," and how that tension is reflected by some of the paintings included in this exhibition.
Within the last few decades of North American art, many First Nations' artists have been challenging the "master narrative" of history, focusing on bringing to light the personal, political, and often forgotten aspects of colonialism and systematic racism.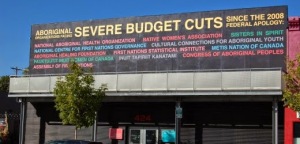 Cathy Busby's billboard piece at AKA gallery in Saskatoon in 2012 focused the public's attention on the harmful cuts that the Harper Government made to First Nations programming (
AKA gallery
).
Many internationally renowned First Nations artists deal with personal identity, as they are persons who have lived lives facing discrimination and have, through colonialist history, lost a connection to their culture and family (some notable artists to think about in this context are Anishinaabe artist
Rebecca Belmore
(Winnipeg, MB), artist
Edward Poitras
(Regina, SK), Cree/Saulteaux/Métis artist and curator
Lori Blondeau
(Saskatoon, SK), and Siksika artist
Adrian Stimson
(Southern Alberta).
I think the use of painting media by many of the artists in the SCC's current exhibition, Where River Meets Sky, speaks well to this tension. To choose one example in the plethora of work exhibited, I'd like to focus on Catherine Blackburn's painting Grandmother. In this piece, Blackburn renders a highly descriptive (and beautifully painted) representation of her own grandmother.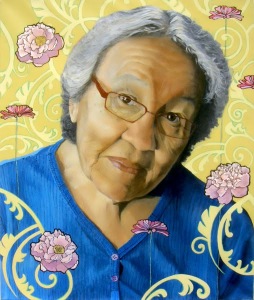 Grandmother,
Acrylic on Canvas, Catherine Blackburn (
SCC website
)
This style of painting is of a kind well known to us; colours which mimic flesh, realistic modeling of fabric and strict attention to detail in terms of proportion and light. This style of painting is, as we know, popular and appreciated, and directly relates to a western European style influenced by some of the great master painters, such as Rubens, Van Gogh, Caravaggio, and so on. Another Western European aspect of the painting is the decorative motifs and flowers, reminiscent of Alphonse Mucha. The painting, despite its Western visual associations, is of Blackburn's Dene Grandmother, who doesn't speak much English, while Blackburn herself does not speak Dene—having grown up away from most of her relations and away from her reserve (
PA Herald Interview
). I think there's a beautiful reconciliation happening in this image, an attempt to reach across barriers of culture, of language, of distance, to reach a personal understanding and connection.
Many of the pieces in the exhibit, through self-reflection, through nostalgia, even through
humour
, speak to a reaching, an attempt to reconcile personal experience with disconnection, and a reclamation of culture and identity. I feel that this idea is mirrored with the tension of painting being present in a Fine Craft gallery, as my introduction briefly outlined.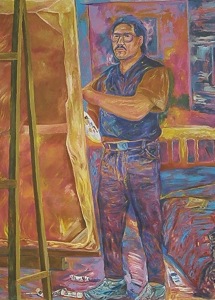 The Artist,
Acrylic on canvas, Allen Clarke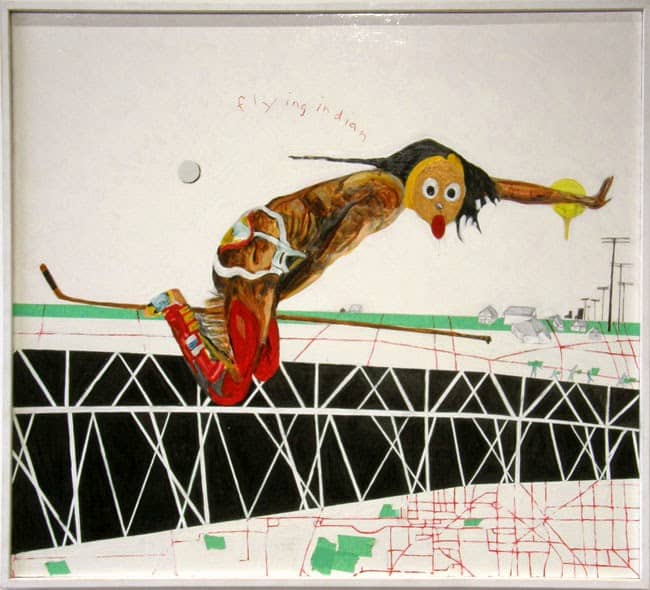 Flying Indian
, Mix media on board, Tim Moore (
SCC website
)
Painting traditionally has a high place in the hierarchy of art, while Craft has been delegated to be "low" art, just as the traditional works of First Nations Artists have been (and occasionally still are) routinely dismissed and denied the title of Art with a capital "A."

To view these paintings, and of course to see the many other pieces which range from sculpture to textile work to traditional birch bark bitings, visit the Saskatchewan Craft Council on 813 Broadway Avenue. Where River Meets Sky runs from April 19th to May 31st.