Submitted by: Sydney Luther, Gallery Assistant
Laura Steadman
has been creating art for as long as she can remember. She says when she was young, she used to design and sew teddy bears. For now, she has decided to focus on jewellery making as her main artistic outlet. Laura's jewellery company is called
EllJay Design
, and she designs and creates all of her jewellery pieces by hand.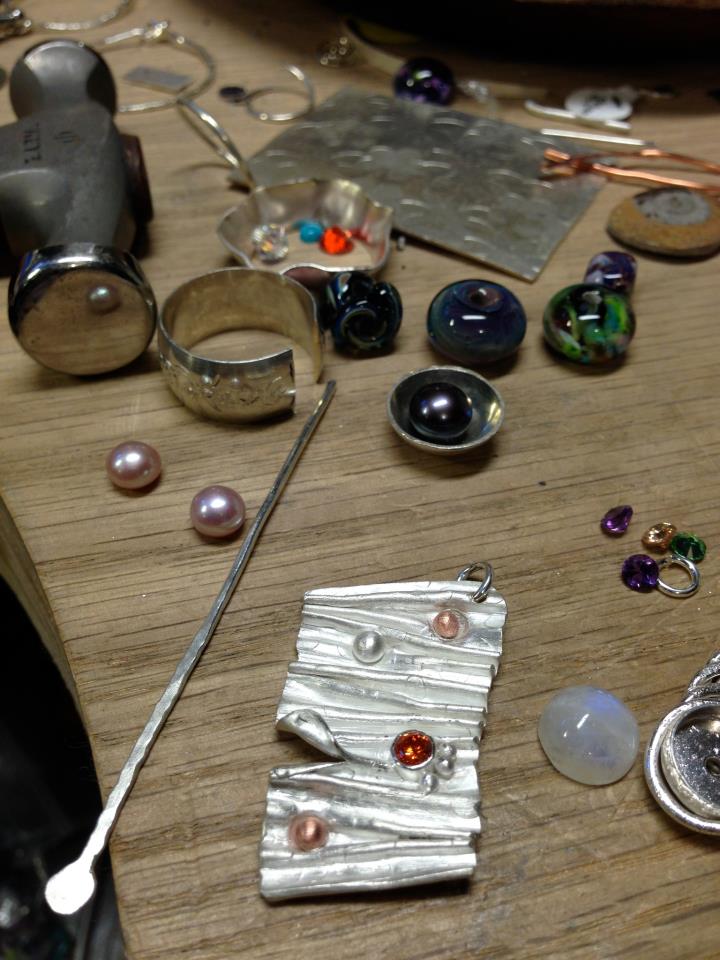 Works in progress in Laura's studio
Laura, who was born and raised in Regina, works out of her home studio. She hand creates metal earrings, rings, and pendants, with which she often incorporates her handmade lampwork glass beads. She calls silver her first love, but also works with copper and titanium and hopes to move onto using gold in her jewelery soon. Although she focuses on jewellery, Laura also does crochet, Hardanger embroidery, cross stitch, petit point, and origami, to name a few.

Laura is a founding member of a group of jewellery artists in Saskatchewan called JewelleryWon. Together, the group encourages and promotes jewellery artists in Saskatchewan. The group also hosts semi-annual shows, which feature these artists specifically. JewelleryWon includes several SCC members.
15 years ago, Laura's stepfather took a jewellery-making class, and Laura was amazed at what he was able to create. With her mother and stepfather's encouragement, Laura went on to take the same class. It was a "Jewellery Level 1" class, where she learned basic silversmithing skills. About a year later, Laura tried a lampworking class and found that to be just as addictive as making jewellery. She credits most of her current success to her teachers: Melody Armstrong and Megan Hazel, who taught her jewellery-making, and Shauna Mitru, who taught her lampwork bead-making. These three women are all longstanding SCC members.
Laura says she has been a craftsperson all her life, but she has been making jewellery for about five years. She became an SCC member earlier this year and became a juried member in April, 2013.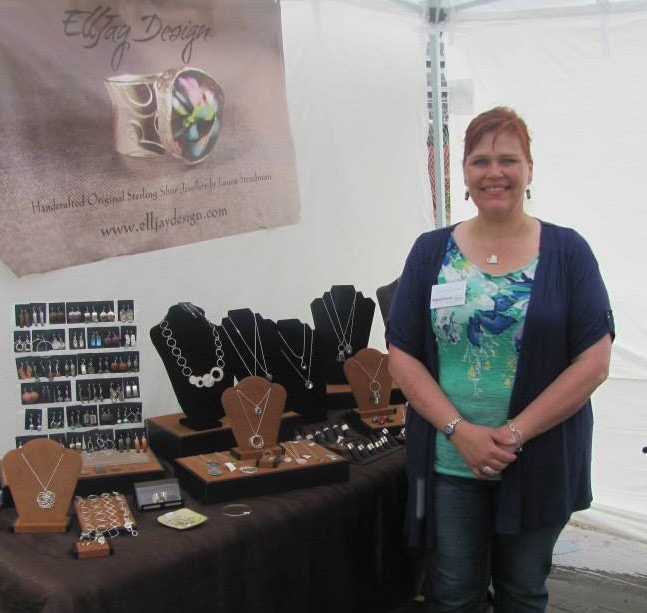 Laura at WaterFront, June 2013