Submitted by Tracy Hanson, Fine Arts Library Assistant, Frances Morrison Central Library
So Jane: Crafts and Recipes for an Austen-Inspired Life by Hollie Keith
745.5 KEIT (Frances Morrison Central Library)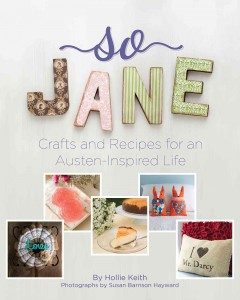 Jane Austen's works of romantic fiction earned her a place as one of the most widely read writers in English literature. In her timeless works, she developed many memorable characters. She only completed six novels, but they have been turned into a plethora of motion pictures, television adaptations, and have been translated into multiple languages.
This entertaining book contains 30 delicious recipes and 30 craft ideas organized into chapters bearing the titles of her 6 completed novels: Northanger Abbey, Sense and Sensibility, Persuasion, Emma, Mansfield Park, and Pride and Prejudice.
Each chapter includes easy to-follow instructions to make a craft and/or recipe. The vibrant photographs have amazing visual appeal and invite the reader to continue on their journey through the pages.
Explore the pages to create a wide variety of items; from hand-poured "sensible" soap to baked apples and poached salmon. The antique and British themes are showcased throughout.
Invite your friends over for a themed "Breakfast in Bath" and keep your soft boiled eggs warm with decorative egg cosies. The patchwork fabric bowl is an excellent place to hold your freshly baked scones and apple pastries.
Create a "True Love Blanket" complete with Elizabeth and Darcy silhouettes. The templates for the craft projects are located at the back of the book. You can use this blanket to go on a fun picnic complete with recipes inspired from the novel Emma. Enjoy a cucumber sandwich and finish off your meal with strawberries and cheesecake.
There are numerous craft projects and interesting recipes to choose from. Travel back to Jane Austen's time when life often seemed simpler but still held plenty of charm!