Submitted by Melissa Goodchild, Fine Arts Assistant, Frances Morrison Central Library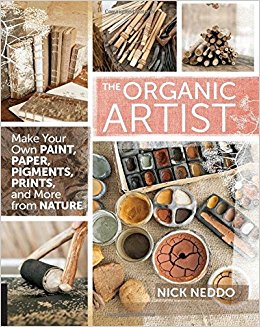 Author: Nick Neddo
Published: Massachusetts: Quarry Books, 2015
Call number: 702.84 NEDD
If you aren't satisfied with the materials you find in the store or are looking to be more in touch with nature, why not make your own? The Organic Artist will give you instructions on how to do just that. This book contains step-by-step instructions with detailed photos on how to make charcoal, paints, paper, and much more. Helpful tips on the processes will help personalize them to work with your ability or style. This book is an interesting read but some of the projects can be a little involved so it may not be for everyone. With that said, you may get inspired to try your hand at collecting from nature and making your own crayons or ink. With this warm weather, you may want to take advantage of what your backyard can provide.
This book was published in Massachusetts by Quarry Books, 2015 with 160 pages in soft cover, in colour.
If you are interested in this or similar books please do not hesitate to contact the Saskatoon Public Library Fine Arts Department, we are happy to help you.