Canadian Crafts Federation Conference: Quebec City, September 24-27, 2015
by Vivian Orr, Saskatchewan Craft Council, Communications & Publications Coordinator
Just a few weeks ago, Carmen (SCC Executive Director), David Freeman (SCC Board Member and CCF Representative )and I attended the Canadian Crafts Federation annual conference Igniting Citizenship: Building a Collaborative Craft Community in Quebec City.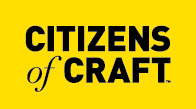 A big focus of the conference was Citizens of Craft (CofC). What started as a basic branding strategy has now become a national, and potentially international, movement.
Carmen and I attended the Pre-Conference Session on Thursday where Emma Quin, CEO of Craft Ontario, discussed the three levels of CofC guidelines and associated support materials catalogues. In a nutshell, Licensees (i.e. provincial and territorial craft councils) have the greatest access and ability to use CofC materials. Businesses & organizations have less access and individual craft artists have the least.
When you think about this, it makes sense. The craft councils are the driving force behind the creation and implementation of CofC. Businesses and organizations (ie. craft galleries, boutiques, museums, and etc.) are in a position to help support the movement and point their audience towards the CofC website. Individual craft artists are the feet-on-the-ground and hands-in the-studio troops. On the front lines, putting their work forward to the public and declaring "I am a Citizen of Craft".
Creating a profile on the CofC website is another way to participate as an individual artist. The search function on the site is a great tool for the public, exhibition or market organizers, boutique or gallery shop buyers or gallerists doing research. It allows people to search multiple ways: keyword, geographical location, media or using more than one search parameter. It makes finding you and your work easier! If you need advice or coaching while creating your CofC account and profile, please contact: Sydney, SCC Communications Assistant.
On Friday, during the Building Community Panel: Putting Craft in its Place – Everywhere, we heard from Marie-Hélene Fremont from the Institut National des Métiers d'Art, France. Madame Fremont discussed her Institute's efforts to raise awareness and promote Fine Craft. This includes Les Journées européennes des métier d'art. Every April they hold a celebration of Fine Craft that has spread from France to Germany, Austria, Belgium, Spain, Hungry and Italy, to name a few. Emma Quin will travel to France to introduce Paris to CofC and the Canadian Craft scene at the 2016 edition.
Jeanne Couture, Public Art Advisor, with the Quebec Ministry of Culture and Communications' talked about their Art and Architecture Integration Policy. She gave an overview of the policy of reserving part of the budget for construction or expansion of a government building or public place to the commission or purchase of artwork for these places.
Carl-Éric Guertin, Executive Director, Économusée, discussed their program to encourage local entrepreneurship and cultural tourism by showcasing artisans and their trades. The concept allows artisans to open their workshops to the general public so they can share their knowledge and passion and sell products made on the premises.
—
To read Part 2, click here!