Submitted by Noreen Donald, Fine Arts Library Assistant, Frances Morrison Central Library
Review: Studio – Craft and Design in Canada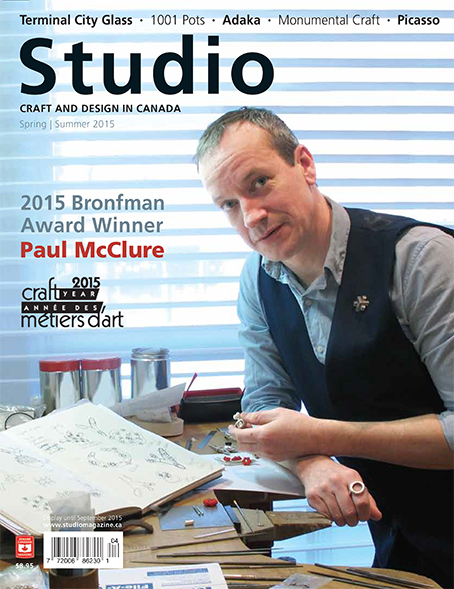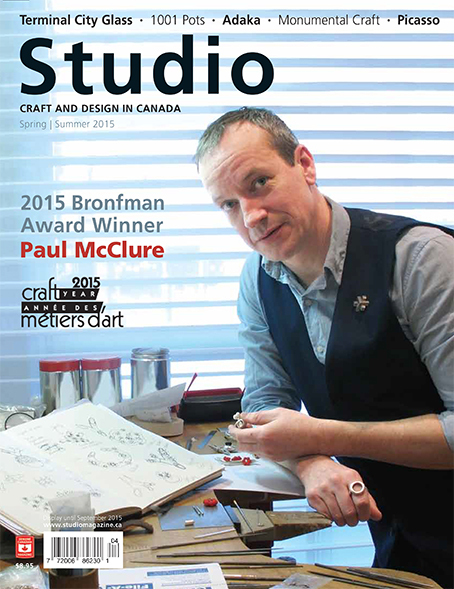 Those who appreciate craft may find a valuable resource in the serials collection in Fine Arts at Frances Morrison Central Library.  Among the many titles which will appeal is Studio – Craft and Design in Canada. A free subscription to Studio is just one perk of becoming a member of the Saskatchewan Craft Council, but if you are not a member, you can still find it at the Saskatoon Public Library, or you can get a subscription yourself here.
Published twice-yearly by Craft Ontario, Studio reflects the Canadian craft community.  It informs of exhibitions sponsored by Craft Councils from across the country, profiles Canadian craft artists, congratulates prize-winning artisans, advertises the wares of Canadian craftspeople, and explores the lives and works of craft artists. Each issue provides feedback on a previous issue by a guest commentator, alerts readers to fresh work and talent, reviews publications and exhibitions, and interviews two crafters from the same community.
A few of the regular features are printed in French as well as English.
In addition to the regular features, each issue contains several articles which focus on other topics of interest to craftspeople and their patrons. Some of the topics which have been covered are sources of inspiration, approaches to crafting, marketing one's work, acquiring skills, use of technology, collaboration in craft, craft as a social/political statement, craft businesses, curating exhibitions, spirituality and craft.
Photographs are plentiful, mostly in colour and of good quality. Quality of paper and printing is high.  Good use is made of white space; the layout facilitates locating information. Articles are pertinent and current.
The Saskatoon Public Library has subscribed to Studio since 2013. Back issues from that date forward are available for borrowing.
Keep current with craft in Canada. Check out Studio Magazine.