Submitted by: Kimberly Murgu, SCC Festival and
Curatorial
Assistant
What is Oceanic Experience Wellness?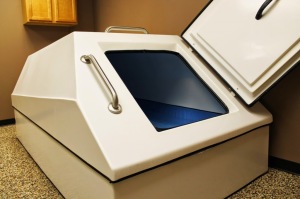 http://www.oceanicexperiencewellness.com
OEW is a sensory deprivation float tank facility that is located at 828 10th St. E. Saskatoon, SK. They opened their doors in the fall of 2012, and have been providing a space for deep creativity, healing and reflection ever since. They do this by providing you with sustained periods of weightlessness. Giving your mind, as well as your joints, muscles, and bones a rest.
Essentially, you enter a tank, and your body rests on a solution of water and 800 lbs of Epsom salts. The water is heated to 93.5*F, which is the same temperature as your skin. This causes your perception of the water begin to dissolve over a period of time. You are free from all the distractions of the outside world, as no sound, light or touch sensations can reach you.
What are the Benefits of floating?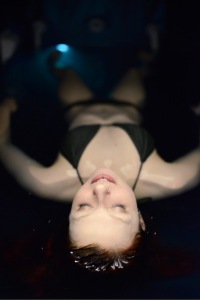 http://www.oceanicexperiencewellness.com
When you no longer have to struggle against gravity, your body can easily enter a state of healing and rest. Many people find significant relief from chronic pain. With this greater potential to heal, your joints decompress, your spine lengthens, and blood flow is increased. Sufferers of chronic conditions such as fibromyalgia have been known to have experienced dramatic relief from just one visit in the float tank.
We weren't designed for the fast paced environment we are exposed to every day. We are all in need of quick and easy ways to calm down our nervous systems, and the float tank provides this.
When you free your body from gravity and outside stressors, you can discover deeper levels of your own creativity and intelligence. Artists have found this to be a perfect place for inspiration.
What is the Visual Artists Program?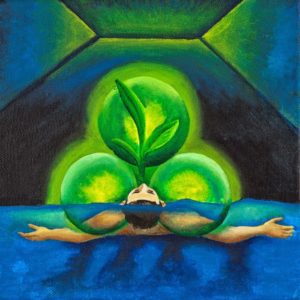 The program is open to artists of all kinds, and provides you the opportunity to exchange your creativity, time and skill for the unique experience of the float tank.
If you are serious about your work, Oceanic Wellness will provide you with two free floats in exchange for a piece of artwork inspired by your experiences in the tank.
The first float will be 90 minutes in length, and you will have 24 hours to start your artwork. Your second float must be within two weeks of your first, and you can stay in the tank for as long as you wish. You then have 30 days to have your finished piece in to Oceanic Wellness.
Go onto the Oceanic website. Download the contract, and send some examples of your work with your application.
If selected, you are entered into the database, and every month, 10 artists are chosen from this list.
How to prepare for a float
Don't drink coffee for several hours beforehand
Don't shave or wax, as the salt water can irritate your skin
Eat a light meal about an hour to 90 minutes ahead of time.
If needed, bring a hair brush, and your contact lens container.
Everything else is provided.
For more information, check out the OEW website, Facebook page, give them a call or even just stop by.
828 10th St. East, Saskatoon, Sk.
1 306 361 6446
Open 24 hrs a day