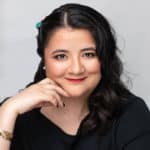 Angel was originally a comic book artist and illustrator, but now specializes in tsumami craft – the Japanese art of folding squares of silk into complex floral designs, most famously used in the creation of geisha hair ornaments.
Her work explores the intersection of modern and traditional, bringing together ancient techniques and new materials and motifs, along with the concepts of impermanence, cultural exchange, and wearable art.
Angel grew up in sunny Florida, and holds a Bachelor of Fine Arts from Savannah College of Art and Design. She moved to Saskatoon in 2015 after marrying her wonderful husband, David.