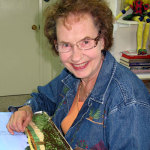 It has always been fascinating for me to work with textiles. At the present, my main focus is creating prairie scenes using fabrics and embellishing them with hand embroidery. The skies are hand painted and the ground areas are created from commercial and hand painted fabrics which are hand appliqued onto a backing fabric. The details such as trees, grasses, fences and houses are hand embroidered.
I also make small, multi-media hangings using hand painted and stamped fabrics that are embellished with found objects, textured threads, and beads.
My art dolls have hand painted fabric bodies with decorative yarns for hair and one-of-a-kind costumes.
My work is in private collections in Canada, England, Australia, Japan, China, and Holland.
Gallery Representation:
Traditions Handcraft Gallery
, Regina, SK
MacKenzie Art Gallery
, Regina, SK